Under Armour CEO Aims at Nike, Adidas, and $10 Billion
by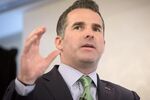 Under Armour Chief Executive Kevin Plank had this to humblebrag at a Goldman Sachs conference yesterday: "We believe we're a … $10 billion brand that is doing $2 billion in business today," he said. "So we obviously think that there's a tremendous amount of runway."
Can he do it? It's hard to overerestimate Under Armour's momentum. In the past decade, the only year Under Armour's sales growth dipped below 20 percent was when the Great Recession whacked the economy in 2009; the company posted an 18 percent revenue gain that year. At its current pace, Under Armour would break the $10 billion mark in 2020.
Still, the sportswear market isn't just going to grow magically by $8 billion. On a market-share basis, Under Armour would have to swipe almost one-third of Nike's annual revenue to hit $10 billion, a little more than half of yearly sales at Adidas, or some combination of both. Keep in mind that Under Armour—though astonishingly successful—has taken 17 years to hit the $2 billion mark.
Under Armour also isn't interested in scaling by shopping—buying up smaller rivals—at least according to the game plan Plank laid out yesterday. In addition to men's apparel, Under Armour hopes to woo women, expand abroad, and keep expanding its footwear and direct-to-consumer businesses.
The company is getting almost 30 percent of its revenue directly from consumers, thanks, in part, to a fast-growing group of outlet stores. It is making big strides with a running shoe developed in a bra factory. This year, it will spend $250 million on marketing to women. And it just hired an Adidas veteran to help push its products abroad, specifically to Brazil.
Plank, meanwhile, seems maniacally bent on the $10 billion target. "We believe if it bleeds, we can kill it," he said yesterday. "So we definitely think we're drawing some blood, and we're going to keep running very, very hard."
Before it's here, it's on the Bloomberg Terminal.
LEARN MORE