The Hidden Cost of the Financial Crisis, Five Years Later
By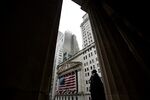 On Thursday, Bloomberg Businessweek will publish a special issue on the five-year anniversary of the financial meltdown. (Buy it on your local newsstand or, better yet, subscribe.) It's a great issue, filled with surprising photos, graphics, and stories, including a first-person account of the crisis by Hank Paulson and a piece I wrote about Dick Fuld in exile. On Sept. 16, the magazine's first documentary film, HANK: Five Year's from the Brink, will be launched on Netflix. We're obviously not the only ones covering the anniversary. Some of the best journalism on the crisis and its after-effects has come on PBS Frontline (especially "Money, Power, and Wall Street" and "The Untouchables"), which is hosting a roundtable discussion by a bunch of journalistic worthies, and me, to discuss "The Financial Crisis Five Years Later—How It Changed Us." You can follow along here and here.
One point that I didn't get a chance to write about in the magazine but do touch on in the Frontline discussion is what I've come to think of as a great lurking cost of the crisis that has yet to manifest itself in a way that's obvious: the constraints it will place on whichever future president has the misfortune of having to contend with the next financial meltdown. Most of the look-backs, ours included, naturally focus on what has become of the key figures, the companies, the reform laws, and how the crisis has affected the country and its citizens—in short, we focus on what is measurable.
But anyone who has an up-close view of national politics, as I do, can still feel the ripple effects of the crisis in Washington. One of those effects, which I don't think is sufficiently appreciated, is that supporting the bailouts, the TARP, and all the other emergency measures imposed five years ago has been politically deadly for a generation of politicians. This has happened in slow motion, over the course of years, but it has profoundly changed both parties, and especially the GOP. It's not an exaggeration to say it has completely remade the Republican Party. My favorite illustration: 47 percent of the House GOP was elected in 2010 or after. Right now, the effect of this change is showing up most dramatically in the Syria fight—these new, post-crisis Republicans are fiscal hawks, not foreign policy hawks.
But as we learned in 2008, halting financial crises demands extraordinary measures, often on the fly. The lesson that politicians of both parties have internalized is that supporting bailouts, banks, Wall Street, and even the panicked leaders of your own party is politically deadly. That won't soon be forgotten. And it's a potentially huge cost of the crisis that may not become evident until the next one hits.
Before it's here, it's on the Bloomberg Terminal.
LEARN MORE