In Chevron vs. Donziger, Victory Trumps Money, for Now
Paul M. Barrett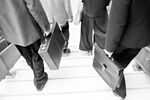 In the courtroom, what looks like retreat sometimes is actually the opposite: aggression. That's what's going on in Chevron's closely watched racketeering suit against Steven Donziger, the New York lawyer who engineered a $19 billion pollution verdict against the U.S. oil company in 2011 in Ecuador.
Chevron on Sept. 9 informed a federal judge in New York that it planned to curtail and possibly drop its pursuit of money damages in the civil racketeering case. Far from an admission of defeat, though, this maneuver signals Chevron's conclusion that its main goal—neutralizing Donziger's historic verdict—would be easier to accomplish in a streamlined trial, now scheduled to start on Oct. 15.
By backing away from money damages, the company hopes to simplify its counterattack against Donziger and narrow or eliminate his opportunity to have the clash decided by a jury. (In a suit for money damages, the defendant—in this case, Donziger—has a constitutional right to a jury.) Chevron contends that Donziger procured the Ecuadorian judgment by means of a massive fraud—an allegation the company would prefer to present in a so-called bench trial to the federal judge overseeing the case, rather than to jurors who might be more sympathetic to Donziger and his Ecuadorian clients.
Donziger has denied any wrongdoing and claims that Chevron is persecuting him only as a way to evade liability for widespread contamination of the Ecuadorian rainforest in the 1970s and '80s. He says that he sought compensation for some 30,000 residents of a heavily developed region in northeastern Ecuador. U.S. District Judge Lewis Kaplan, who is presiding over the racketeering case, has indicated, however, that he takes the allegations of Donziger's misconduct very seriously.
The case has a convoluted history, replete with accusations of fraud on all sides. Before Donziger and a group of allied Ecuadorian attorneys even won their verdict—the biggest of its kind and the product of 18 years of litigation in the U.S. and Ecuador—Chevron filed suit in 2011 against the New York lawyer and his clients under the federal anti-racketeering statute. Chevron's aim was to discredit Donziger—whom it accuses of undermining justice via bribes and intimidation—and hinder him from enforcing the Ecuadorian verdict. The company has no assets to speak of in Ecuador, so Donziger's clients are trying to collect on their victory in other countries where Chevron does have assets. The plaintiffs attribute the pollution in Ecuador to Texaco, which Chevron acquired in 2001.
In the racketeering suit, Chevron wants a formal determination that the Ecuadorian verdict was a sham. With that, the oil company could block enforcement in the U.S. and perhaps elsewhere. Obtaining money from Donziger and his clients has never been Chevron's primary motivation, and the company said it will clarify in coming weeks whether it will seek any money damages at all from Donziger.
Judge Kaplan has signaled in various rulings that he is eager to get underway promptly on Oct. 15. The only remaining hurdle of note is a plaintiffs' motion pending before the federal appeals court in New York to have Kaplan removed from the case because of his alleged predisposition to rule against Donziger. If the level of bitterness in this confrontation seems extraordinary even by the bilious standards of legal warfare, that's because it is.
Before it's here, it's on the Bloomberg Terminal.
LEARN MORE