Ikea Sends Its New Flatpack Refugee Shelter to Syria
The Swedish retailer has teamed up with the UNHCR to make modular refugee shelters. Prototypes have been sent to Syria.
by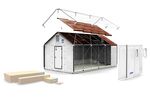 Ikea, known for its affordable flatpack furniture, is moving into new territory: refugee housing.
The Swedish retailer has teamed up with the United Nations' refugee agency (UNHCR) to develop a flatpack shelter that can be quickly assembled on site. Recently 50 prototypes, all packed into standard Ikea cardboard boxes, were shipped to refugee camps and crisis regions in Syria.
The modular shelters, built to house up to five people, are made of lightweight, insulated plastic panels that snap into a metal frame. The structures also come with solar panels and USB ports to provide electricity, as well as a fabric shading sheet that reflects heat during the day and traps warmth at night.
The prototypes are still being tweaked, but they're already a vast improvement over the standard shelters previously distributed by the UN, according to Olivier Delarue, the head of innovation for the UNHCR. "Our tents have not evolved very much over the years," he says (see Ikea Foundation video). "They still rely on canvas, ropes, and poles—and they usually only last for around six months, due to harsh climate conditions." Ikea's modular shelters, by contrast, are built to last up to three years.
According to the UNHCR, 3.5 million refugees around the world currently live in tents and shelters, and most spend an average of 12 years housed in a camp. The UN reached out to Ikea to design a better shelter because, as Delarue says, "We also realized that Ikea had expertise in certain areas—such as logistics and flatpacking—that we could learn from."
Ikea's philanthropic arm, the Ikea Foundation, has reportedly invested $4.8 million toward developing the shelters. The project comes as the Ikea empire continues to expands into all sorts of new markets, applying its no-frills modular design strategy to hotels, homes, and even entire city sections.
It's unclear whether the modular refugee shelters will be given a Swedish moniker, but as far as I can tell, their construction doesn't seem to require an Allen wrench.
Before it's here, it's on the Bloomberg Terminal.
LEARN MORE