Delta's Back in the S&P 500. Is It a Good Stock?
by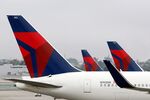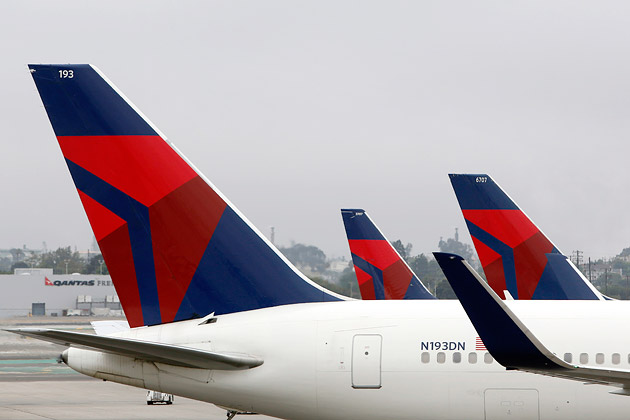 Delta Air Lines now trades as a member of the S&P 500 stock index after an eight-year hiatus and has realized an immediate jolt, up nearly 15 percent in the past week. For investors, there's a more germane question: Is it a good stock?
From its cash flow to improved customer service, a bolstered effort to "own" the lucrative New York travel market, and investments in both airports and cabin amenities, Delta has made enormous strides since its bankruptcy reorganization and subsequent merger with Northwest Airlines in 2008. "Delta is firing on all cylinders," Jay Sorensen, president of marketing consultancy IdeaWorks and a former executive at Midwest Airlines, said in a recent interview about the airline's marketing efforts. "They give the appearance of things going exceedingly well, and they're an airline on the move."
Yet it's still an airline, a sector that has amassed decades of fear and loathing among investors due to the enormous capital costs and robust track record of losing billions of dollars. Delta was ejected from the S&P 500 in August 2005 after its shares fell more than 80 percent that year—the index's worst performance—and dipped under $1.40.
Bears also like to point out that U.S. airlines are a mature, low-growth, commodified business subject to energy shocks and catastrophic "black swan" events. And it's not yet clear that even with the structural-cost changes the major airlines gained in bankruptcy they'll be able to wring higher profit margins on a consistent basis.
On the other hand, big changes have come in the airline industry, starting with capacity. Big U.S. airlines no longer chase market share and generally shy from ruinous fare wars. In the first half of 2013, Delta led its domestic peers in passenger yield, a measure of profitability, due to its tight curbs on how many seats it flies. Writ large across the industry, this discipline has helped airlines boost their pricing power to a degree. Since the start of 2011, U.S. airlines have attempted 47 price increases, evidence that they consider the market resilient enough to test demand. Seventeen of those efforts succeeded, including two this year that were initiated by Delta, according to data compiled by FareCompare.com, an airfare-tracking firm.
Of 16 analysts tracked by Bloomberg, 14 rate Delta a buy and two as a hold, with an average target price of $25. Company shares have gained 89 percent this year—and 142 percent over the past 12 months—compared with a 52 percent rise in 2013 for the Bloomberg U.S. Airlines Index. On Tuesday, the airline paid its first dividend in many years and plans to have an investment-grade credit rating within five years.
"Fundamentally, the carrier is nicely positioned in a partially consolidated industry, given the carrier's success in developing the New York market, and subsequently its transatlantic presence, given a joint venture with Virgin Atlantic," wrote Dan McKenzie, an analyst with Buckingham Research Group, in a Sept. 10 note to clients. He has a $30 target for Delta, which traded at $22.52 today.
The airline has also been a miserly steward of its cash, buying older, dirt-cheap airplanes on the secondary market and striking lucrative terms when it has purchased new. Aviation analyst Richard Aboulafia told Bloomberg News that Delta probably got a 50 percent discount on the $5.6 billion list price for 40 new Airbus jets it ordered last week.
Before it's here, it's on the Bloomberg Terminal.
LEARN MORE