pursuits
Cantor Fitzgerald Continues to Give It All Away on 9/11
By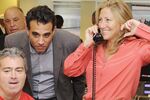 A dozen years after the terrorist attacks claimed two-thirds of its workforce, Cantor Fitzgerald remains a money-raising force for September 11th-related charities. Once again, the privately owned company and its subsidiary, BGC Partners, will turn over all their revenue today to more than 40 nonprofit groups.
Last year, the one-day tally from fees on trades for big institutions, selling bonds for city governments, processing sports bets in Las Vegas, and lining up money for big commercial real estate deals reached about $12 million, and over the past 11 anniversaries combined the company has garnered about $89 million. Cantor drums up business and renewed attention by tapping celebrities to work the phones. Participants this year include actress Julianne Moore and sexpert Dr. Ruth.
It's staggering to imagine what a one-day, give-it-all-to-charity commitment would yield from even larger players on Wall Street. A day of revenue at Goldman Sachs last year, to take one example, was about $94 million. Goldman, however, did not have its headquarters near the top of One World Trade Center. And it didn't lose a crushing 658 workers in the 9/11 attacks.
In some ways, Cantor's tragedy is even fresher this year, as its travails hit movie theaters in a documentary titled Out of the Clear Blue Sky. The feature-length film was made by Danielle Gardner, the sister of a Cantor employee who died along with 657 of his co-workers.
Before it's here, it's on the Bloomberg Terminal.
LEARN MORE