At Fast-Food Chains, Paying by App Makes for Happier Meals
By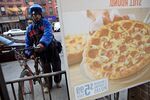 You can pay for your Big Mac with a smartphone app in in Salt Lake City and in Austin, Tex., part of a test as McDonald's prepares to enter the brave new world of mobile payments. Other fast-food chains have moved to adopt digital ordering and payment apps: More than 10 percent of Starbucks transactions in the U.S. use mobile payments, and Domino's claims that from 35 percent to 40 percent of its U.S. sales are made online.
Naturally, menu items punched into an app or website by a customer are going to be more accurate than orders spoken aloud, but that's not the only reason fast-food chains are ramping up their digital efforts. Here are four advantages for restaurants that manage to persuade diners to use their apps and sites:
Speed: Faster service means more sales. Assuming cashiers are trained to quickly accept mobile payments, customers can move through lines 10 percent to 20 percent faster. Mobile payments present "significant opportunities to again continue to drive efficiencies, speed of service, a lower cost transaction within our store," said Troy Alstead, Starbucks's chief financial officer, during a conference last month.
Lower Transaction Fees: More payments using the Starbucks Card app or the Square app mean lower credit-card fees, which can come to more than 2 percent of a transaction. An in-house system can even translate to revenues. Domino's developed its own online ordering platform in 2010 and collects fees from franchisees to use it. In its latest quarterly report, the pizza chain credited a bump in franchise revenue to "fees paid by franchisees related to our insourced online ordering platform." A company spokesman said the money is offsetting the costs of the technology and is funding new innovations.
Research. Unlike cash, digital sales allow Domino's to "mine the data and to drive the digital marketing that we do," said Chief Executive Officer Patrick Doyle during a conference in May. The pizza chain brought in about $2 billion globally from digital sales last year.
Millennials Like It. "The trend in cashless payments with mobile devices is driven by the millennial generation who prefers the convenience of paying with their mobile device," says Darren Tristano, executive vice president of food-service research firm Technomic. About one-third of millennials had placed orders using their computers in the last 60 days, according to a Technomic survey, and more than one-fourth had used mobile devices to order. While there are costs for the company to develop and operate these apps, Tristano sees it as necessary to maintain sales with existing customers.