Apple, the Follower: An Innovator Bows to Consumer Trends
Kevin C. Tofel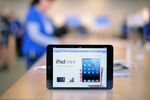 Apple's Tuesday event has come and gone with two major new products announced: The iPhone 5S and iPhone 5C. but Apple's product line has changed fundamentally since a few years back. From where I stand, Apple has been responding more to consumer trends in the market instead of leading product categories with first-to-market devices.
Take the iPad mini, for example. Steve Jobs publicly shared his disdain for small tablets and never said otherwise during his lifetime. Without a doubt, the original iPad was a game-changer, but the iPad mini? That was Apple's answer to other small tablets already on the market. Have doubts? My January 2011 post of dumping the larger iPad for a smaller Galaxy Tab was read by Apple executives, who gleaned some great commentary from our readers on the topic of small slates. Clearly, the iPad mini wasn't a market changer, but a market follower.
Need another example? After ignoring the growing market for large-screen devices, Apple created the iPhone 5 last year with a screen bigger than its predecessors. It's possible that Apple always had plans to use a larger screen on its phone, but it never hinted at the possibility. Instead, the company continued to use the argument that its phones were better for one-handed use than the larger handsets people were interested in.
Now Apple is offering a low-cost iPhone 5C, starting at $99 with contract—a completely different sub-product for the iPhone line; after six years, this will be the first such sub-product. Apple's iPhone sales are still growing, so why the need for an iPhone 5C? Cost. In larger markets—think China and India—Apple's current iPhone is too expensive, so consumers are turning to lower-priced Android devices. Again, Apple has to modify its business model to meet the market.
None of this is a bad thing, nor is it something unique to Apple. All companies must evolve their products and services. And all these devices are outstanding. I bought both an iPad mini and iPhone 5 and don't regret the purchases for a second. This isn't about Apple's latest products; it's about Apple doing something that it really didn't need to do until recently: adjust its mobile product mix to better compete.
This means Apple doesn't drive the mobile market as much as it used to. Again, it's not necessarily a problem. The mobile landscape has changed over the past six years and it will continue to change as competition tightens.
You can seein some new iPhone 5S features that Apple's not leading as much: The device has a low-power chip dedicated to reading sensors—just like the Moto X—and the camera has larger pixels. Why? Because "bigger pixels are better," said Cook. He could just have asked an HTC representative to make the statement. The HTC One camera uses fewer pixels, but guess what? They're bigger, too.
Having said that, kudos to Apple for advancing its A7 chip, which now is 64-bit capable. That will improve performance in the future, although iOS runs really well on less memory than other platforms do. I also like Apple's innovative Touch ID, the new home button that's also an advanced fingerprint sensor. It will surely help with authentication when buying items from iTunes. And in this hyper-competitive market, you can bet another handset maker will try to recreate the idea for its phones.
But is Apple truly leading innovation in this market like it once did? No. Still, I have little doubt that Apple will set sales records with its newest iPhones and iOS 7 software.
Also from GigaOM
Why a China Mobile Deal Is So Important for Apple (subscription required)
[http://pro.gigaom.com/blog/why-a-china-mobile-deal-is-so-important-for-apple/]
In Defense of Steve Ballmer
[http://gigaom.com/2013/09/11/in-defense-of-steve-ballmer/]
4 Things You Might Have Missed During Apple's iPhone 5s Announcement
[http://gigaom.com/2013/09/11/4-things-you-might-have-missed-during-apples-iphone-5s-announcement/]
Hacking Your Fingerprints: Security Expert Explains Limits of Biometrics on the iPhone
[http://gigaom.com/2013/09/11/hacking-your-fingerprints-security-expert-explains-limits-of-biometrics-on-the-iphone/]
Apple 5s Vs. 5c: Which Phone Should You Buy?
[http://gigaom.com/2013/09/10/apple-iphone-5s-vs-iphone-5c-which-phone-should-you-buy/]