A Burger Chain Taps Local Farms to Sell More Franchises
by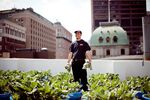 Franchise restaurant success usually starts with cutting operational costs and purchasing in bulk from national suppliers. The savings that come from volume and standardization are then funneled into mammoth ad campaigns that send Americans flocking to new outlets.
Jon Olinto, co-founder of Boston's b.good, thinks his burger chain can break that mold. As at his flagship in Boston's financial district, his restaurants feature seasonal menus, farm-to-table produce, and made-from-scratch condiments and salad dressings. B.good's fries are cut from whole potatoes and its meat patties are ground on site. The seasonal menu features peaches, tomatoes, and corn in summer, and green chiles, cauliflower, and apple shakes in the fall.
The company, founded in 2004, has 10 corporate stores in New England and sold its first franchise outlet in 2012; average annual unit sales volume is $1.14 million. Two franchise locations are open now with 25 in development, Olinto says. An average meal of a burger and fries goes for about $10, Olinto says.
"It's a challenge to expand a boutique concept into a franchise," he acknowledges, adding that it took nearly a decade for him and his co-founder, Anthony Ackil, to perfect the model. They rely on cost savings from buying unprocessed food and preparing it on site, Olinto says. "It's cheaper to buy 30 pounds of local, natural beef chuck roll than it is to buy frozen processed" hamburger patties, he says, despite the increased labor cost. "It's a piece of our business model that seems hard to believe, but it's true."
The $419.3 billion restaurant industry is stagnating after a sharp decline in 2009 and 2010. Total U.S. restaurant visits went from 63 billion annually in the 12 months ended May 2009 to 61 billion in the 12 months ending this past May, according to NPD Group, a market researcher. Small, independent restaurants were hit the hardest, says Bonnie Riggs, NPD's restaurant industry analyst.
Fast casual restaurants—industry jargon for upscale, quick-service restaurants such as Chipotle Mexican Grill—are a lone bright spot: In the 12 months ended May, visits to them increased 9 percent, while total industry traffic was flat, NPD's data show, and the number of fast-casual chain units grew 7 percent. Competition in the segment, however, is fierce and "many come and go, because everybody is trying to capitalize on [fast casual], since it's the only growth area" in the industry, Riggs says.
Olinto says his concept is attracting attention from would-be franchisors as far away as Chicago. A challenge with geographic expansion is that he must find distributors, farmers, and other suppliers, such as mom-and-pop ice creameries, willing or able to work with distributors to supply new franchise territories.
Most franchise operations buy from mammoth suppliers such as Sysco. To attract even a small distributor, b.good had to reach a certain size. "It's hard to build a company that's got enough momentum and buying power to make [it] an attractive opportunity for a distributor. With two restaurants, we had no chance. Now that we have an exciting concept and the potential for 100 units, it's a different story," Olinto says.
Some other food companies have blazed a trail—Olinto notes that b.good buys meat from the same beef co-op that supplies Whole Foods. And a couple of his corporate locations, in Boston and Hingham, Mass., grow tomatoes, collard greens, and blueberries on site; the Boston store put 40 plastic kiddie pools on a rooftop parking garage and grew 1,000 pounds of tomatoes in them this summer, he says.
With the popularity of locally grown produce, plugging small farmers into his supply chain has been easier than he anticipated. "They divert some of their presence at farmers' markets to serve us. We are pretty good at knowing how much we'll buy from them, so we can meet their expectations consistently year over year," which makes selling to b.good an attractive prospect, Olinto says.
If his gamble works, b.good may pave the way for more nontraditional franchises. But he is determined not to abandon his corporate expansion to concentrate solely on selling franchises. "A lot of franchisors just sell franchises and they don't continue expanding their corporate stores. We want to continue to be operators, because once you stop, it changes your perspective," he says.
His 2014 goal is to expand into New York City, though Olinto is not sure if it will be with a corporate-owned or franchisee-owned outlet. Still, he's already thinking ahead: "We'd have to find an ice cream unique to that community and a local farm to source seasonal products like peppers, tomatoes, and blueberries."
Before it's here, it's on the Bloomberg Terminal.
LEARN MORE