Which Airlines Are Most Fuel-Efficient?
A new study ranks the energy use of U.S. carriers
by
Airlines consistently search for ways to conserve jet fuel, the biggest cost and general worry across the industry. Yet the threat of higher energy costs may not be adequate to spur future fuel-efficiency gains among airlines, according to a study that ranks U.S. airlines by how efficiently they manage fuel burn.
Atop the ranking of 15 airlines for 2010 is Alaska Air Group, which flies mostly newer Boeing 737 jets and Bombardier Q400 turboprops at Horizon Air, its regional operation. The airline's network also is largely composed of flights to and from its hubs in Seattle and Portland, Ore. That limits the "circuity" of its flying, one of the metrics in the ranking released Tuesday by the International Council on Clean Transportation, a nonprofit environmental consulting firm funded by Climate Works and the Hewlett Foundation.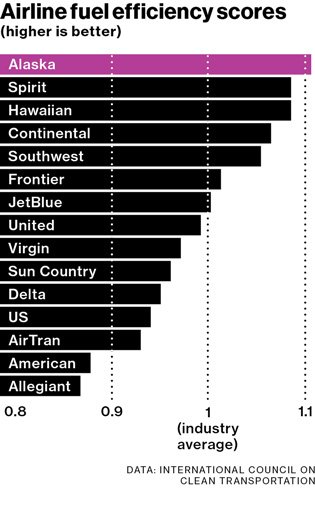 At the bottom of the industry ranking is Allegiant Travel, the ultra-low-cost airline that flies primarily 1980s-era McDonnell-Douglas MD-80s, one of the least fuel-efficient planes in airline fleets and a model that is rapidly being retired. A heavy mix of MD-80s also weighed on the rankings for American, next-to-last at 14th, and Delta Air Lines, 11th. The former Continental Airlines, which merged with United in 2011, was the top network airline for fuel efficiency in 2010, in fourth place.
The rankings include the major carriers' regional operations, which have assumed a greater portion of the flying at many airlines in recent years. In terms of fuel efficiency, the study found a 26 percent difference between Alaska and Allegiant. "This gap is larger than what might be expected in a mature aviation market during a period of high fuel prices," the report's authors wrote.
About one-third of the variation was attributable to airlines with newer fleets—Alaska, Spirit, Continental—and the rest due to a mix of factors including route circuity, airport congestion, differing average percentages of occupied seats, and fuel-saving operating practices such as taxiing with only one engine. Even with its last-place position, "Allegiant actually does a number of things right," said Dan Rutherford, a co-author of the study. "They had the highest load factor in 2010 and they fly the most direct routes."
An Allegiant spokeswoman, Jessica Wheeler, said in an e-mail that the MD-80 is "core to Allegiant's business model of keeping capital costs below industry averages, allowing us to keep our average fare low." The company is adding 10 more-efficient Airbus 319 and 320 airplanes this year and nine more by the end of 2015. For its part, Delta has made a practice of scouring the used airplane market for inexpensive jets instead of spending big for brand new planes—even if the new models burn less fuel. The company is expected to save around $1 billion through the purchase of MD-90s, a successor to the MD-80 that is roughly 10 percent cheaper to operate per seat than a Boeing 737, according to the report. "This example highlights what are in some cases the skewed incentives of the commercial aviation market: The purchase of newer, more fuel-efficient jets might make little sense when older ones are available at a significant discount because the fixed cost of state of-the-art aircraft might not be offset by the projected fuel savings."
In a statement, the U.S. airlines' trade group, Airlines for America, said the industry is "naturally incentivized" to cut its fuel use because of high prices and volatility and managed to carry 16 percent more passengers and cargo in 2012 than in 2000, while emitting 10 percent less carbon dioxide.
Three years ago, the International Civil Aviation Organization (ICAO), a United Nations group, set a goal (PDF) for the world's airlines to improve fuel efficiency by 2 percent annually and to achieve carbon-neutral growth after 2020. The clean transportation lobbying group behind the new study is lobbying the ICCT to set a carbon emission standard for aircraft and to support a "market-based scheme" to impose a price for carbon emissions. In November, the European Union suspended a plan to levy financial penalties on airlines over their emissions amid an outcry from the airlines, as well as from officials in China and the United States. That decision was preceded by the ICAO having agreed to study market solutions for curbing carbon emissions, recognizing that new airplane technology will not alone be adequate to achieve the goals.
"Fuel costs are a big concern for airlines now, but these numbers raise real questions about the conventional wisdom that fuel costs by themselves act as a sufficient incentive to drive efficiency in this sector," said one of the report's authors, Mazyar Zeinali, an ICCT official. The ICCT plans to release the airlines' fuel efficiency rankings for 2011 later this year and for 2012 and 2013 next year.
The rankings are based on fuel consumption data reported by airlines to the Bureau of Transportation Statistics, along with a methodology developed by the National Center of Excellence for Aviation Operations Research at the University of California, Berkeley, which took into account airlines' relative flight distances in miles and their access—in terms of the number of airports served and flight frequencies—to allow for "a precise distinction between fuel burned to provide a given level of service and fuel burned as a result of inefficiencies."
Before it's here, it's on the Bloomberg Terminal.
LEARN MORE