The New iPhone: Live From Apple Headquarters
by and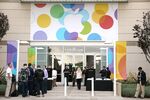 2.16pm: And as we wrap up here from Cupertino, Apple stock is down ever so slightly. It's worth noting that Apple's vaunted secrecy machine has failed to prevent any bit of today's announcements from leaking previous to the event. That said, the iPhone 5S looks extraordinary, and the cheaper 5C should help Apple push further into markets where it has struggled, like China. Fittingly, Costello is wrapping up the event with his 70s hit, "Radio Radio." -BS
2.12pm: Boomers rejoice! Costello is playing Nick Lowe's "What's So Funny About Peace, Love and Understanding?" I am reminded of "Diamond" David Lee Roth's quote about Elvis Costello: "Music journalists like Elvis Costello because music journalists look like Elvis Costello." You might say the same about tech journalists. -SG
2.11pm: Cook is on stage closing the day's events and perhaps there's "one more thing?" He's talking about music and invites Elvis Costello to the stage to play for the assembled crowd of bloggers who are busy staring at their computers! -BS
2.06pm: Analysts will be looking carefully at whether the iPhone 5C, priced about a hundred dollars less than the 5S, will cannibalize Apple's fat profit margins. Both models go on sale on September 20th in the US., China and 7 other countries. It's the first time Apple is launching an iPhone in China, as opposed to bringing it to China later. -BS. But no mention of adding China Mobile to the carrier roster–which Apple's been said to have been courting. -SG
2.04pm: In a video, Apple hardware chief Dan Riccio stresses that Touch ID is not shared with other software, and it's not backed up to iCloud. That will put some security concerns to rest, but eventually you'd think that fingerprint recognition would be convenient to access other apps and websites. -SG
2.03pm: So to review: faster processor, better camera and fingerprint ID in the new iPhone 5S. And 3 colors: silver, gold, "space gray." Price: $199, $299 and $399 for 16GB, 32GB and 64GB models, with a two year contract. -BS
2.01pm: Apple is pitching this as a security feature for the phone and to verify in-phone purchases of apps and media. Of course there may be new applications down the road as Apple tries to get into markets like electronic payments where vendors need extra authentication. -BS
1.57pm: And now to that curious home button on the iPhone 5s – its a small circle rounded by a ring of gold. It's a fingerprint ID to replace passcodes, Schiller says. Half of smartphone customers do not set up passwords, Schiller says. This is an easier and more fun alternative. Called Touch ID. It uses "a key you have with you everywhere you go. Your finger." There's a small capacitive sensor under the hoe button that scans sub-epidermal skin layers. It can read the finger however you place it on the phone. TouchID has been baked into iOS7. Users train their new phone to their fingerprint, then they touch the home button to unlock the phone. Schiller calls it a "joy" to use. -BS
1.54pm: A new burst mode will take up to 10 pictures per second, if you hold your finger down on the camera button. The A7 chip will then analyze those photos in real time and present you with the best shots taken in that burst. The video camera now has a slo-mode feature as well. -SG
1.51pm: Schiller is extolling the 5S camera. Larger sensors, larger aperture, and a new true-tone flash has dual LEDs, and will automatically use the right one tailored for a particular environment. "This is DSLR stuff," he says. -BS. The new flash is a welcome addition — flash photos on older iPhones always left many things to be desired. -SG
1.46pm: Schiller talks up the M7 motion coprocessor in the 5S. It measures the data coming from the accelerometer, gyroscope and compass to support a new breed of health and fitness apps, he says. Apps will know whether you are stationary, walking, running. As an example, a new Nike+ Move app will use the M7 chip to keep track of user's activities. -BS
1.40pm: And now, we get a demo of the new A7 chip, thanks to he guys from Infinity Blade, who are onstage showing their latest game. Infinity Blade is to Apple events like Alec Baldwin is to SNL–they're favorite guests. -SG
1.37pm: The phone will feature the new A7 chip, a 64-bit chip, the "first ever" of its kind in a mobile device, Schiller says. "I dont think the other guys are even talking about this." Over 1 billion transistors in the chip. Schiller preaches: CPU performance from the first iPhone to the 5S has increased by 40x. Half of that increase comes from today with the 5S. Graphics are 56x faster. Does it brew coffee? Not yet. -BS
1.34pm: Now to the iPhone-$enior: the iPhone 5S. -BS. Calling Dubai! It's gold! -SG. It comes with black and silver, white and silver, and white and gold backs. Its made with high grade aluminum and champered edges. "The most beautiful phone ever made and it is the gold standard in phones," says Schiller. -BS
1.33pm: There's a subtle dig here at Samsung. The Galaxy S4 has been criticized for being too "plasticky." In stressing the rigid construction of the iPhone 5C, Apple seems to be saying "our plastic is better than their plastic." -SG
1.31pm: In a video from Apple SVP of design Jonathan Ive, he refers to the 5C as "beautifully, unapologetically plastic." -SG
1.30pm: Schiller jabs that the iPhone 5c is arsenic free and "Android Free." -BS
1.28pm: The price is $99 for the 16GB and $199 for the 32GB model. That's with a two year contract. -BS.
1.27pm: "When you pick up and hold the iPhone 5c for the first time you will be blown away by the quality of it, and by how it feels to hold in your hand," says Schiller. Powered by an Apple designed A6 chip, and a larger battery than in the last-gen iPhone 5. -BS
Go too low in price, and Apple risks downgrading its "premiumness." Go too high in price, and you won't attract all those people in the world who currently can't afford an iPhone, which costs roughly $650 without carrier subsidies. -SG
1.25pm: So there's a new, less-expensive iPhone. But how much less expensive? That's the $199/$299/$399 question. -SG
1.24pm: Apple marketing chief Phil Schiller starts by unveiling the iPhone 5C, the more economical of today's two iPhones. A new video demonstrates the five color options: green, blue, yellow, pink, white. The Internet blogs predicted most of this so far. -BS
1.22pm: Two phones will replace the iPhone 5, says Cook. -SG
1.21pm: That's a big move by Apple to push its productivity apps across all its devices. And now, to the new iPhones. -BS
1.20pm: Tim Cook is back on stage and extolling the virtues of Apple's mobile productivity apps like Pages, Keynote, iPhoto, and iMovie. He says they will all now be free with any new iOS device. -BS
1.17pm: "Downloading iOS7 is like getting a whole new device, one that is more useful and elegant than before, but which you already know how to use," says Federighi. Its free, and available starting on September 18th for all devices iPad 2 and later and iPhone 4 and later. -BS
1.16pm: Federighi demos the new iTunes Radio by making a station off of Rush. Of course. – SG
1.15pm: Sharing in iOS7 is easier than ever, Federighi says. Twitter, Facebook – and Airdrop, which lets users share with other iPhone users around them. iOS7 also includes the Pandora-like iTunes Radio. -BS
1.11pm: Federighi's nickname is "Hairforce One" and it's well deserved–he's got a hell of a mane. – SG
1.09pm: Craig Federighi [Apple's senior vice president of software engineering] is refreshing the audience on Apple's new iOS7, announced three months ago at Apple's Worldwide Developer's Conference. -BS
1.08pm: Cook also starts by talking about retail and a new store in Palo Alto's Stanford mall featuring a pavilion-design with glass on three sides and a cantilevered roof. It's an "architectural marvel," says Cook. -BS
1.06pm: On the plus side, Apple has now aenethesitized the press corps with a hyper-loud video of Lady Gaga performing. -BS. We're now watching a video of said music festival. – SG
1.05pm: Tim Cook has kicked off the proceedings by talking about the iTunes Festival, a 30-day live-music festival in London. This is akin to the president calling a press conference about Syria but starting by saying: "First, I want to tell you about some things happening in the Department of the Interior." -SG
Intro: Apple releases new iPhones once a year. While the company infuses the event with ridiculous pomp and draws equally absurd levels of media attention, the devices do end up in the hands and lives of millions of people around the world.
Today's press conference, held at Apple's headquarters in Cupertino, will be no different. Apple CEO Tim Cook is expected to unveil a new top-of-the-line iPhone, a cheaper model aimed at more economical buyers, and perhaps a surprise or two. Join us at 1:00 p.m. EST as Bloomberg Businessweek writers Sam Grobart and Brad Stone live blog Apple's announcement.
Before it's here, it's on the Bloomberg Terminal.
LEARN MORE