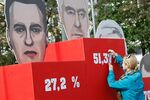 The race for Moscow mayor—voting was held on Sunday—was never about traffic, parks, or taxes in Russia's capital. From the beginning it was clearly a proxy fight. The opposition, which emerged in 2011 and 2012 as a street force (incapable, however, of winning in the formal political arena), wanted to prove its potential in the form of its sharpest, most popular star, Alexei Navalny. And the Kremlin, under the guise of incumbent Mayor Sergei Sobyanin, hoped to demonstrate its fundamental legitimacy and its continued ability to best upstart challengers.
Although Sobyanin was announced the winner, with just over 51 percent of ballots cast, the Kremlin still didn't achieve what it had hoped. The Kremlin—and most of all, Sobyanin—wanted Navalny in the race to show at once that the even the opposition's most charismatic leader couldn't mount a real challenge. In so defeating him, the idea went, Sobyanin would gain a real mandate and boost his stature among the political elite, perhaps positioning himself to one day succeed Putin. But as Navalny waged the most original and energetic political campaign of the Putin era, his ratings shot up, from 10 percent a few months ago and 20 percent just a couple days before the election to more than 27 percent in official results.
Day after day of meeting with voters outside metro stations and marshaling a team of volunteers to hang banners and hand out fliers elevated Navalny's campaign into something Russia hasn't seen in a long time. He also managed to collect around $3 million in small, individual donations, a rather unprecedented development in a country without a culture of political giving. In short, his was a real campaign—not the distant politics of regal aloofness and patronage practiced by Putin and his acolyte Sobyanin, but genuine, in-the-trenches politics. It made the political style of old—Sobyanin only met with voters in the format of large, stage-managed events, for example, and he declined to participate in debates—seem flat-footed and out of style.
Navalny may have charisma and appeal that are difficult to copy, but the motifs of his campaign are certainly replicable and likely to be used in political races next year and beyond. At a post-election rally on Monday, Navalny said as much, suggesting he and his supporters would "convert the political machine which we have created in these elections into a steamship" that would defeat the pro-Kremlin United Russia party across the country.
In the end, the Kremlin squeaked out a rather narrow victory where it was hoping for something more resounding. Sobyanin, respected as a competent administrator who has presided over generally popular city beautification projects, regains the mayoral seat and its sizable power. He will lack the added clout that would have come from delivering Navalny's political scalp, once and for all.
Already nervous about negative social and economic trend lines, the Kremlin had advanced the date of the mayoral voting. That it still couldn't triumph handily shows that its political horizons, at least in the capital, are less than promising: Moscow City Duma elections and a nationwide parliamentary vote will be held in 2016.
Since the outbreak of protests in 2011 and 2012, the Kremlin has allowed for a certain liberalization in the political arena: New parties and candidates have been registered, and by all account's Sunday's elections were conducted without wide-scale fraud or falsification. (Disproportionate access to television and administrative resources for pro-Kremlin incumbents is a separate issue.) The Kremlin bet that it could provide a bit of breathing space in the political arena yet retain its dominant position in a new, messier environment. On a national level, that's probably the case.
Yet Sunday's voting showed that forceful, appealing candidates with savvy campaigns can indeed break through. Yevgeny Roizman, a colorful and strident anti-drug activist with a checkered past, won the mayorship in Yekaterinburg, the country's fourth-largest city. Back in Moscow, Navalny and his campaign team are contesting the results and hoping for negotiations with the mayor's office. They say that Sobyanin eked out his first-round victory thanks only to an abnormally large number of "home votes," in which sick or elderly voters can cast ballots from their apartments. (Sobyanin himself declared Sunday's vote the "fairest, most competitive and most open elections in the history of Moscow.")
It seems unlikely that Moscow authorities will allow a recount, and Navalny's speech on Monday night seemed to tacitly admit this. He focused more on future battles than the one just behind him. One issue went largely unmentioned by Navalny during both his campaign and post-election rally: his guilty verdict in a politically motivated fraud case that could see him sent to prison for five years. The court in Kirov will deliver its appeal decision soon. Surely, the talk behind the Kremlin walls is about whether Navalny's performance makes imprisoning him too dangerous or all the more necessary. No matter what, the days of referring to Navalny as an "anticorruption activist" or "blogger" are over. He is now a politician.
Before it's here, it's on the Bloomberg Terminal.
LEARN MORE