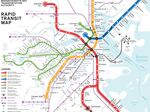 Back in April, The Massachusetts Bay Transit Authority launched a map redesign competition to see how Boston's current subway map could be re-imagined and improved. The initiative immediately drew criticism for not offering any compensation to designers, but as we found out yesterday, the controversy didn't starve the MBTA of painstakingly-designed entries.
In a new survey, the MBTA invites the public to vote for their favorite design among the six finalists chosen by a panel of MBTA representatives, academics, urban planners, and "mapping aficionados." The MBTA expects to announce the winner by the end of the month, but makes no guarantee that the crowd favorite will be adopted as the new map. The survey closes on September 20.
The six finalists (click to see a larger version):






The rest of the entries can be viewed here. 
All images courtesy of MBTA.