German Euro-Skeptics Could Give Merkel an Election Shock
By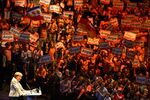 German parliamentary elections are coming up on Sept. 22, and Chancellor Angela Merkel has a problem on her hands. A euro-skeptical political party known as AfD is rising in the polls and could deny her Christian Democratic Union and its coalition partners the majority they need to continue governing.
AfD, or Alternative for Germany, currently holds no seats in the Bundestag, and until recently it barely registered in public-opinion polls. But a survey released on Sept. 4 by the Forsa polling group showed it with 4 per cent support—just shy of the 5 per cent needed to win Bundestag representation. Peter Matuschek, Forsa's chief political analyst, says the poll may have underestimated the party's strength. Many supporters, he told Spiegel, "are too embarrassed to admit that they are planning to vote for the AfD," which wants Greece, Spain, and other crisis-hit countries to leave the euro zone, and possibly break up the existing monetary union itself.
At first blush, Merkel seems to be in little danger. Support for her CDU and its coalition partners is currently running at about 45 per cent in the polls, well ahead of the roughly 36 per cent for the opposition SPD and its Green Party allies. Merkel's big problem is that nearly all AfD supporters are defectors from her camp. If AfD tops 5 per cent in the Sept. 22 vote, she will have to bring the opposition SPD party into the governing coalition, as was the case from 2005 to 2009, predicts Roland Freudenstein, deputy director at the Centre for European Studies, a center-right think tank in Brussels. "The likelihood is that she remains chancellor, albeit maybe in a different coalition," Freudenstein says.
That helps explain why Merkel—without explicitly mentioning AfD—has been saying in recent days that the election "will be very close." She has warned that the center-left SPD and the Greens could join forces with the Left Party, the successor to East Germany's Communist Party, to create a so-called red-red-green governing coalition. "To those who want to be sure that there won't be experiments, that there won't be an attempt to make red-red-green a reality somehow, I say: Give all your votes to the CDU," Merkel said in a campaign speech in Dusseldorf on Sept. 9.
In fact, the SPD and leader Peer Steinbrueck have ruled out allying with the Left Party. In raising the threat of such an alliance, Merkel is sending a message to CDU voters who might be tempted to vote for AfD, says Andreas Beckmann, a political analyst at the consulting firm of Bohnen Kallmorgen & Partner in Berlin. "She is telling them, 'If you vote for AfD, you're going to make things worse,' " by weakening the CDU and creating an opening for leftists.
The irony is that the SPD and Steinbrueck haven't been able to score many points against Merkel during the campaign. Voters generally give the Chancellor high marks for her management of the German economy, and Merkel has adroitly embraced some SPD initiatives such as calls for a minimum wage and limits on rent increases for households. "She has made it very hard for the SPD to have a real point," Beckmann says.
AfD, by contrast, is taking aim squarely at German taxpayers' fears about the cost of bailing out crisis-hit euro zone economies. Those fears have mounted in recent weeks on reports that Greece is failing to meet reform targets set by international lenders.
Before it's here, it's on the Bloomberg Terminal.
LEARN MORE