Dow Jones Reshuffles Index to Add Goldman, Kick Out Bank of America
by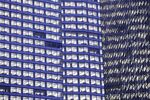 The Dow Jones industrial average, the 30-company index that for many Americans is synonymous with the stock market, updated its lineup today, adding Goldman Sachs, Nike, and Visa, and booting out Bank of America, Alcoa, and Hewlett-Packard.
The three departing stocks had the lowest prices and therefore the lowest weightings in the Dow—yet two of them were among the index's strongest performers. In the last year, Bank of America's 70.6 percent gain was the best in the Dow, and Hewlett-Packard was 10th at 27.4 percent. Alcoa was dead last, though, losing 11.1 percent. The Dow itself gained 14.3 percent over the period.
Because the Dow index is weighted by share price—unlike the Standard & Poor's 500-stock index, which weights by market capitalization—stocks that trade at low levels have little effect on the average. That also means that stocks with high prices, like Apple at $502, would dominate the index if they became part of it.
With Visa replacing HP, there will now be five financial companies out of 30 in the index, including JPMorgan Chase, Travelers, and American Express. The swaps are scheduled to occur after trading ends on Sept. 20. It's the first three-stock switch in nine years.
"The Dow is going to look and act very differently going forward," Dan Greenhaus, a strategist at BTIG, told Bloomberg News. "Visa would become the second most important stock in the index and Goldman Sachs the third most important."
In many ways, assessing the market by looking at just 30 companies, even big ones, is like viewing the economy through a drinking straw. Still, the Dow matters. Its fluctuations are reported on the nightly news; when the index hit an all-time high in March, erasing the losses of the financial crisis, it was the lead story on the front page of the New York Times.
Before it's here, it's on the Bloomberg Terminal.
LEARN MORE