Congress Hits the Brakes on Immigration Reform
By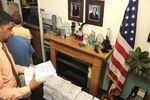 This week, advocates of comprehensive immigration reform will stage events in Washington, where they'll try to make news by getting arrested. Next week, they'll make noise outside the D.C. offices of corporations that give big money to Republicans and are believed to have sway over them on the issue. On Oct. 5, activists will hold rallies in more than 60 other cities.
Will any of this get Congress's attention?
Earlier this year, the prospects for immigration reform looked somewhat promising after the Senate approved a bill with bipartisan backing just six months into the start of the new Congress. Advocates saw lawmakers' five-week August recess as an opportunity to target Republicans in the House while they were at home in their districts and launch pressure campaigns for a vote this fall.
The Alliance for Citizenship, a coalition of scores of groups from across the political spectrum, says its members took part in 1,200 events nationwide. They packed the audiences at town halls and staged press conferences outside the offices of lawmakers who weren't holding public forums. The Evangelical Immigration Table, a group of conservative religious leaders, plowed $400,000 into ads on Christian radio stations.
As a result of the agitating, activists say two dozen Republicans have expressed public support for immigration reform. "I can say very confidently that we won the recess," says Ali Noorani, executive director of the National Immigration Forum.
That might indeed count as some kind of victory, considering that Republican leaders basically forbade members from engaging constituents on the topic this summer. Yet now that Congress is back from vacation, it's far from clear the House will do anything on immigration reform. A welcome-back memo from Majority Leader Eric Cantor says only that the House "may begin considering" a series of bills a committee has already passed, none of which include a path to citizenship—which is the big victory activists are after.
What's more, Congress is only back for nine days before the House is slated to take a five-day break beginning Sept. 23. Members can't go home without having done something about extending the federal budget, which expires on Sept. 30. Come October, there's a debt ceiling deadline Congress will have to deal with. Before any of that, there's obviously the massive Syria problem to resolve.
Advocates have long known that 2013 would likely be make-or-break for immigration reform because of the perceived liabilities next year's midterm elections bring for Republicans who sign on to a comprehensive overhaul. Getting the job done in September was never the goal, activists say. October seemed more realistic.
But the Syria crisis threatens to make immigration reform even more of an afterthought. "Now it seems like there could be an even longer timetable," says Kim Propeack, politics director at Casa de Maryland, a group organizing a large rally in Washington on Oct. 8. Using the crowded calendar as an excuse not to act is a "complete cop-out," says Tom Snyder, manager of the AFL-CIO's immigration reform campaign. "If they want to act, they can act. They can find time on the calendar," Snyder says, adding, "We're not going to swallow, 'We just don't have the time.'"
Activists say they're planning other events for October to press for a vote this fall. Representative Mario Diaz-Balart, a Florida Republican who's working on a reform proposal, was blunt about the prospects for such a vote with Bloomberg News this week: He said he figures there's a 5 percent chance a bill passes by yearend.
Before it's here, it's on the Bloomberg Terminal.
LEARN MORE