Asking Congress to Pay—Personally—for a Pennsylvania 9/11 Memorial
By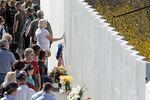 The charity that helps raise money for national parks has now collected the $40 million needed to build a permanent memorial to victims of the hijacked plane that crashed in southern Pennsylvania almost 12 years ago, a tragedy that turned the 40 passengers and crew members into heroes. But a $1.5 million gap remains for the Sept. 11 monument, and airline unions are asking members of Congress to reach into their own pockets to cover the remaining costs.
The Flight 93 National Memorial had its official opening on the ninth anniversary of the terrorist attacks, but that temporary facility has been overwhelmed by the number of visitors, according to the National Park Foundation, a fundraising organization. More than 1 million people have visited the crash site since 2001. "With the completion of a lasting memorial, we can dramatically improve the overall quality of the visitor experience and provide the tools necessary for a complete understanding of the events of September 11, 2001," the foundation said on its website on Monday while announcing $40 million in donations from 110,000 people, foundations, and companies.
Those funds will cover most of the plans devised for the permanent memorial. But there's not enough money for educational programs, wildlife restoration, and a planned 93-foot Tower of Voices containing a wind chime for each of the victims on the plane. "It is a means of hearing their voices when one is at the memorial site," says National Park Foundation's King Laughlin.
A coalition of four unions representing flight attendants, ground workers, and mechanics are petitioning the members of Congress to "set an example by making a personal contribution" to collect the $1.5 million still needed. "Honestly, we encourage anyone to donate," says Corey Caldwell, a spokeswoman for the Association of Flight Attendants. "But we're specifically targeting Congress because [they] created the concept of this memorial, and they didn't [fully] fund it with government funds."
The money woes for the Pennsylvania memorial reflect similar problems faced by backers of the National September 11 Memorial Museum in Lower Manhattan, which will have a $60 million operating budget but has received no federal funds for that purpose. That's meant foreign fundraising trips for the museum's foundation, the Wall Street Journal reported yesterday, with $15 million raised abroad so far.
United Flight 93 was en route from Newark to San Francisco when it was hijacked near Cleveland and turned toward Washington, D.C. The passengers and crew are credited with a revolt that helped keep the Boeing 757 from being used in a second aircraft attack on the nation's capital, along with the American Airlines flight flown into the Pentagon. Flight 93 crashed into a field about two miles north of Shanksville, Pa., a former coal mining area that will become a $60 million, 2,200-acre national park following reforestation and other work.
Before it's here, it's on the Bloomberg Terminal.
LEARN MORE