Apple Really Needs That Cheaper IPhone
by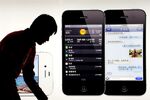 To fully understand all the fuss about a new, cheaper iPhone, look at the changing fortunes of a Taiwanese semiconductor company called MediaTek. Based in Hsinchu, the Taiwanese science park that is the island's version of Silicon Valley, MediaTek is a chip-design company that specializes in semiconductors used in cell phones, televisions, and other electronic devices. Though it's not a brand name among consumers, MediaTek is a force in the semiconductor world: It is one of Qualcomm's major rivals and counts among its customers most of the popular local cell-phone brands in China and other emerging markets.
Until recently, the ups and downs of a company such as MediaTek were of little concern to Apple. The Taiwanese company focused on inexpensive feature phones, the sort of devices that dominated the telecom world before the launch of the iPhone. That strategy paid off for MediaTek: With its engineers taking care of most of the design work, the Chinese companies that bought chips from MediaTek could start selling mobile phones without having to spend much time or money on research and development of their own.
That business model worked in places like China, where there was little demand for pricey smartphones. MediaTek didn't even introduce a smartphone chip until 2011, four years after Apple introduce its first iPhone, and it managed to sell only 10 million of them. The same year, MediaTek sold 500 million chips for feature phones.
Smartphone chips are rapidly catching up. With MediaTek selling chips for smartphones, customers in China quickly changed their focus to the more sophisticated handsets. By 2012, MediaTek had increased its shipments of smartphone chips to 110 million. This year the company expects shipments to hit 200 million.
MediaTek hasn't released a forecast for next year but it's fair to say the trend toward smartphones and away from feature phones isn't going to change as consumers in China and other emerging markets make the leap from feature phones to smartphones. In China alone, the smartphone market will more than double by 2017, from 191.5 million last year to 450.5 million, according to market research firm Canalys. "The population is huge and the handset penetration rate is still very low," MediaTek chief financial officer David Ku says.
In the last few years, phone shipments in emerging markets ran from 1 billion to 1.4 billion annually, he says. That demand will remain, with smartphones taking a bigger and bigger percentage of the total. "In emerging markets, there are over 1 billion people going out to buy phones," says Ku. "If we can get the product right at the right performance and price point, a big portion of that will be smartphone buyers."
Unless Apple can lower its prices, not many of those smartphone buyers will be purchasing iPhones. Apple is now an also-ran in the Chinese market, struggling to maintain share. Such local brands as Lenovo and Xiaomi sell smartphones that are much cheaper than the iPhone. Xiaomi, which made a splash with its recent hiring of former Google executive Hugo Barra, has a new phone that costs just 2,000 yuan ($327)—37 percent of the cost of an iPhone in China.
Undercutting Apple works for the three-year-old company. Xiaomi recently told Bloomberg News that revenue this year may rise to 28 billion yuan, compared to 12.6 billion yuan in 2012. The company is looking to sell as many as 20 million phones in 2013, almost three times the number it sold last year.
Before it's here, it's on the Bloomberg Terminal.
LEARN MORE