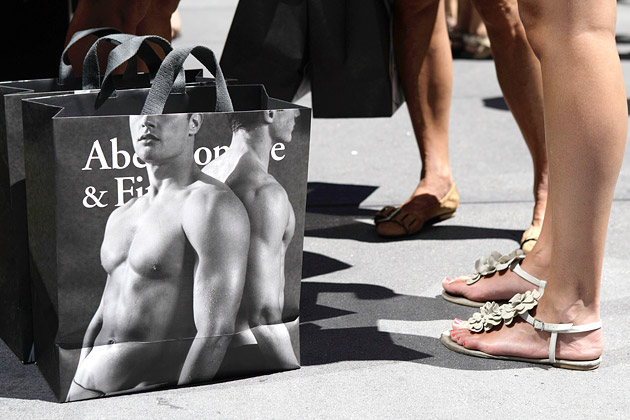 Religious bias is so unfashionable and expensive! Abercrombie & Fitch has learned that lesson yet again as it lost a civil rights lawsuit filed on behalf of a former employee who said she was fired for wearing a head scarf.
In late 2009, Umme-Hani Khan, then 19, started working at a Bay Area Hollister store. She wore a head scarf during her interview and regularly on the job but was allegedly fired four months later after a district manager visited the store. The manager and a corporate human resources director said the scarf violated the company dress code, according to the lawsuit.
The U.S. Equal Employment Opportunity Commission filed the case on behalf of Khan in 2011. A California district judge ruled last week that the termination violated the portion of the Civil Rights Act that bars religious discrimination.
Abercrombie did not return calls or e-mails this morning but, in a statement sent to the Wall Street Journal, said it doesn't discriminate or comment on pending litigation.
This isn't the first time Abercrombie has tangled with head scarves. The Ohio-based company lost a similar case in Oklahoma in July 2011, in which Abercrombie was faulted for not hiring a Muslim applicant who wore a hijab during her interview. A jury awarded the woman $20,000.
At the crux of the issue is Abercrombie's dress code, internally referred to as the Look Policy. Apparently, head wear is a no-no in the company creed, as are piercings and nail polish. Oddly, shirts that say "WTF" and "Whisky makes me Frisky" appear to be fine.
In the latest case, Abercrombie argued that the dress code goes to the "very heart of its business model" and that any deviation from it threatens its bottom line. In short, Abercrombie is acting like a snooty kid who doesn't want to play with those who aren't wearing the right brands. (A Web search of "Abercrombie" and "mean girls" is telling.) That strategy can work, in a way, for the super popular. But Abercrombie is fast losing its cachet, if recent sales numbers are any measure. Same-store sales slid 10 percent in the last quarter, and profit fell by one-third.
Damages for the latest case will be determined in a trial later this month. Abercrombie should be more worried, however, about what kind of message the lawsuit might send—whether a protracted fight over a head scarf will put off any of the huge swath of teens who are devout or into piercing or just a little outside the mainstream. After all, Abercrombie needs all the customers it can get right now.
Before it's here, it's on the Bloomberg Terminal.
LEARN MORE