The Many Faces of Steve Jobs: The Paperback Comes Out With a Younger Image
By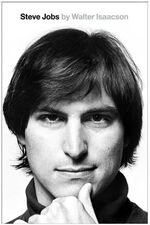 Apple is set to unveil new models of the iPhone on Sept. 10. That same day Simon & Schuster will release its new Apple product: the paperback version of Steve Jobs, the biography by Walter Isaacson that came out just weeks after Jobs' death in October 2011. No one is quite sure what Apple has changed about its phones, but we know that the paperback will have a different image on its cover: a young Jobs staring intently into the camera, hand on his chin.
The hardcover book has sold well—some 1.7 million copies (in print) in the U.S., according to Nielsen. So why change the image? "It's a way to reinvent the book for a younger audience," says Jack Perry, a publishing industry consultant. Hardback books are aimed at businesspeople, who can afford them, he says; college students, if they still buy books, tend to buy paperbacks. "And some people may actually buy the book again just because it has a new cover." Simon & Schuster declined to comment. Amazon is taking pre-orders of the paperback version for $14.60.
The original image, a striking black and white portrait of Jobs staring intently into the camera, was shot in 2006 for Fortune. The photographer, Albert Watson, recalled asking Jobs to think about his next project and about instances where people have challenged him. It was Jobs' idea to put the photo on the cover of the book—his only interference in the creative process, Isaacson has said.
The photo that's on the paperback version was taken in 1984, the year Apple introduced the Macintosh. Other images from that session have received lots of attention as well—the one with Jobs in the lotus position holding a Mac in his lap is on the back of the hardcover. And then there are some shots few have seen. As Norman Seeff, the photographer, told an interviewer: "I've got shots of him where he takes his leg and puts it over his shoulder and then he's lying down and he's wiggling his toes into the camera with his head between his feet—these are shots that maybe no one will ever see."