Putting Numbers on Obama's Dismal Prospects in Syria Vote
By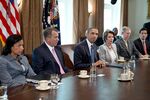 President Obama and his many aides are flooding the media zone with appeals today and tomorrow in their bid to convince the skeptical public—and by extension Congress—that the U.S. must strike Syria. The numbers show it's a task of titanic proportion.
Bloomberg News' graphic whiz Dave Merrill did the math, tallying up where every member of Congress currently stands on an attack. He found that most lawmakers—205 in the House and 52 in the Senate—are still in the undecided column.
Worse for Obama, however, is the current split among the already decided lawmakers that shows far more no votes than yeses. That's particularly true in the Republican-controlled House, where the president needs 217 yes votes and faces a 202-member bloc prepared to vote no. Even if all the 137 Democrats who are currently undecided end up voting to authorize a strike, Obama would still be short of votes at just 163. So to get to 217, he needs Republicans.

The outlook in the Senate, where the president will likely need 60 votes, also seems challenging for the president. To see the latest vote count in the days ahead, check out the full graphic from Bloomberg News.
Before it's here, it's on the Bloomberg Terminal.
LEARN MORE