Russia Offer on Syria Shifts Debate Before Obama's Speech
Lisa Lerer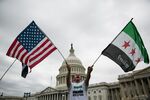 A Russian bid to get Syria to surrender its chemical weapons shifted the debate as President Barack Obama prepared to make his case for U.S. military strikes in a nationally televised address tonight.
While questioning whether Syrian President Bashar al-Assad would yield control of his weapons stocks, Obama said on ABC News that a U.S. attack "absolutely" would be put on hold if Syria followed through on the proposal from its powerful ally.
"We have to be skeptical because this is not how we've seen them operate over the last couple of years," Obama said in a separate interview with NBC News.
Obama answered questions on six television news programs yesterday as part of an administration-wide attempt to rally public and congressional support for a U.S. military response to an alleged chemical attack in Syria last month. His request for congressional authorization for a strike is meeting increased resistance from lawmakers. Polls released yesterday showed public opposition growing.
The Russian-backed offer, stemming from a remark by U.S. Secretary of State John Kerry, represents a possible diplomatic solution to a standoff that also risks undermining other parts of Obama's second-term agenda.
The president acknowledged that his support in Congress for military action is weak. He said he hasn't decided whether to proceed with a strike even if lawmakers turn him down.
Lobby Congress
Obama planned to lobby members of the Senate today in a visit to Capitol Hill, meeting first with the Senate Democrats and then Senate Republicans in two closed-door sessions.
He is using the time to personally press lawmakers to pass his plan for limited, targeted strikes against Syria for using chemical weapons against its own people on Aug. 21, according to a U.S. government investigation.
Syria said it has agreed to place its chemical weapons under some form of international supervision, a development that that White House finds encouraging but is also viewing with caution.
"It is the credible threat of action by the U.S. that has brought about this potential diplomatic breakthrough," spokesman Jay Carney said today on MSNBC. "We have to be cautious, but we have to follow through."
Congress should keep the heat on Syria and vote to authorize military action, Carney said.
'No' Votes
"Before this morning, the Syrian government had never even acknowledged they possessed chemical weapons, now they have, Carney said in MSNBC. ''We have some potential progress on the diplomatic front.''
''I knew when I said I was going to present this to Congress that this would be challenging,'' Obama said on PBS yesterday.
A Bloomberg News tally now shows a majority in the House -- 218 members -- would vote ''no'' or are currently leaning against approving a use-of-force resolution. With two vacancies in the 435-seat chamber, it would take a majority of 217 votes to approve or reject military action.
Public opinion is running increasingly against a military action. A Pew Research Center-USA Today poll found the proportion of Americans against a U.S. strike grew to 63 percent from 48 percent over the past week. The heightened opposition was across party lines in the survey, conducted Sept. 4-8. Support was unchanged at 28 percent. Six in 10 said there are no good options for the U.S.
'Potentially Positive'
Obama called the opening by Russia, Syria's most powerful ally, a ''potentially positive development'' and said the U.S. would engage with Russia and other governments see if something that is ''enforceable and serious'' can be negotiated.
In Moscow, Foreign Minister Sergei Lavrov said the proposal wasn't a solo Russian effort, and that it emerged ''from contacts we had with our American colleagues.'' He said Russia is working on a ''clear, implementable and detailed plan.''
France said it will seek to ''nail down'' the offer by including it in the text of a resolution to be submitted to the United Nations Security Council. The draft also will call for Assad's government to be punished for the chemical attack, French Foreign Minister Laurent Fabius said.
Obama said he wants to deter any future use of chemical weapons by Syria or other regimes. The U.S. says Assad's forces are responsible for the use of chemical weapons in an Aug. 21 attack near Damascus that killed at least 1,400 people, including more than 400 children.
Probable Culprit
In a report published on its website today, New York-based Human Rights Watch said the Syrian government is the probable culprit in the chemical attack. The group analyzed witness accounts, remnants of the weapons systems used and victims' medical symptoms, according to the report.
Visiting Beijing, U.S. Under Secretary of Defense for Policy James Miller said he told Chinese officials in talks yesterday that they and the rest of the world have an interest in a strong response against Syria.
''I emphasized the massive chemical weapons arsenal that North Korea has and that we didn't want to live in a world in which North Korea felt that threshold for chemical weapons use had been lowered," Miller said.
With a Senate vote on the military force authorization coming as soon as this week, some lawmakers embraced the Russian proposal from Lavrov to start negotiations with Assad's regime to establish international control over any chemical weapons in Syria.
Way Out
"I believe this is sincere," Democratic Senator Dianne Feinstein, who has backed Obama's position, said at the Capitol last night. "I have talked to the Russian ambassador today, and he told me his government is very interested in getting this done, so that's good."
Kentucky Republican Senator Rand Paul, who opposes a U.S. strike, called the proposal "a good step forward." House Armed Services Committee Chairman Buck McKeon, a California Republican, told reporters "there are people that are looking for any way to get out of this."
Senator John McCain has been pressing for a more aggressive U.S. response to the 2 1/2-year-old Syrian civil said he is "very, very skeptical" that Russia can make good on its offer. The Arizona Republican said it shouldn't delay congressional authorization for the president.
"It's a reason for senators to vote for it because it's obviously the threat of this that has caused them to even make this concession," he said.
'Every' Bit
Democratic Senators Joe Manchin of West Virginia and Heidi Heitkamp of North Dakota last week circulated an alternative proposal that would give the Syrian government 45 days to endorse an international ban on chemical weapons -- or risk U.S. military action. Manchin said the Senate's Democratic leadership promised to allow a vote on the alternative.
The proposal from Lavrov came after a statement from Kerry at a briefing yesterday in London with U.K. Foreign Secretary William Hague.
Kerry, asked what could stop a U.S. military strike, said Assad "could turn over every single bit of his chemical weapons to the international community in the next week."
"But he isn't about to do it, and it can't be done, obviously," he added.
Jen Psaki, a State Department spokeswoman, said Kerry's statement wasn't a proposal, just a "rhetorical argument."
Immediate Response
In Moscow, Lavrov seized upon it and, after meeting with his Syrian counterpart, said that Russia would "immediately start working with Damascus" if international control of chemical weapons in Syria would forestall a military strike.
Syrian Foreign Minister Walid al-Muallem welcomed the opening and called it a constructive proposal to "prevent American aggression against our people."
At the United Nations, Secretary-General Ban Ki-moon told reporters he was "considering urging the Security Council to demand immediate transfer of Syria's chemical weapons and chemical precursor stocks to places inside Syria where they can be safely destroyed."
Obama said he talked with Russian President Vladimir Putin about attempts to put Syria's chemical arms under international control when the two conferred last week at a summit of the Group of 20 nations in St. Petersburg, Russia.
"This is a continuation of conversations I've had with President Putin for quite some time," Obama said on PBS.
Assad, before the Russian proposal was made, said the U.S. should "expect every action" in retaliation for a strike.
"There are going to be repercussions," Assad said in an interview with Charlie Rose on CBS's "This Morning" program, an excerpt of which was aired yesterday.
Obama dismissed the risk of Syria retaliating.
"Syria doesn't have significant capabilities to retaliate against us," he said on NBC. "Iran does. But Iran is not going to risk a war with the United States over this."
Before it's here, it's on the Bloomberg Terminal.
LEARN MORE