In Times of Trouble, Wall Street Women Get the Boot
by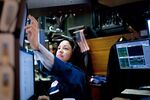 The financial crisis that began almost exactly five years ago marked one of the most thorough purges of women from the upper levels of Wall Street in memory.
Senior women are still in short supply in finance, as Margo Epprecht reminds us, and the industry suffers because of it. "On Wall Street, to advance, women must fit into the male-dominated, hierarchical world of Wall Street—or leave," writes Epprecht, a former stock analyst. "Successful women on Wall Street cite examples of great support from individual men in their careers. Yet in the next breath, they tell stories of ridiculous assumptions they have heard men make about mothers, or women who don't need to work because their husbands have good jobs, or outright sexism or harassment."
Women make up 54 percent of the workforce in financial services but only 16 percent of senior management—and exactly zero of the chief executives, according to Catalyst. One of the reasons those numbers never seem to improve is that every time the financial system hits a wall, the few women up there seem to get shaken out. Epprecht refers to research by Boris Groysberg, a professor at Harvard Business School, showing that after the 1987 stock market crash, the percentage of women employed at brokerage firms fell drastically and has only recently recovered—to a still pathetically low one in five.
What's especially strange about this, according to Groysberg, is that women seem better suited to the work than men. "Women analysts' recommendations demonstrated a better rate of return compared to risk versus the men's," Epprect writes, citing a study by the Financial Analyst Journal. "But only one in six of the analysts at all brokerage firms from 1994 to 2005, the period studied, were women, well below the rate Groysberg measured in the 1980s."
After losing jobs after the 1987 meltdown and again after the 2000 mini-meltdown, women were once more pushed out in numbers after 2008. The high-powered trifecta of Sallie Krawcheck at Bank of America, Zoe Cruz at Morgan Stanley, and former Lehman Brothers Chief Financial Officer Erin Callan all lost their jobs. "When times are good, intellectual capital is valued on Wall Street," longtime Wall Street executive Jack Rivkin tells Epprecht. "It is more of a meritocracy. In a downturn, political savvy and connections become predominant." In an old boys network, women are typically not the ones with the best connections.
A huge body of research shows that large organizations benefit from diversity. Research also shows that men are more susceptible to overconfidence than women, which can lead to groupthink and reckless risk-taking. Yes, Wall Street's macho, homogeneous culture persists, even as one after another of the industry's gods is taken down and the same lessons are learned over and over. "Over three decades, Wall Street became the ideal petri dish favoring risk," Epprecht notes, "and consequently, favoring men."
Before it's here, it's on the Bloomberg Terminal.
LEARN MORE