Icahn Bows Out of Dell Fight With Plug for His Twitter Feed
by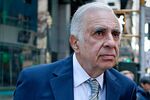 Activist investor Carl Icahn threw in the towel on his fight over the go-private sale of Dell to company founder Michael Dell and Silver Lake Management—using the moment of concession to solicit more Twitter followers.
Dell shareholders are scheduled to vote Thursday on the $24.9 billion offer to take the struggling computer maker private. In a letter today, Icahn maintained that the offer for the company—roughly 70 percent below Dell's 10-year high of $42.38—remains too low. "We have determined that it would be almost impossible to win the battle on September 12th," Icahn wrote. "We have therefore come to the conclusion that we will not pursue additional efforts to defeat the Michael Dell/Silver Lake proposal, although we still oppose it and will move to seek appraisal rights."
A Dell spokesman said the company had no comment on Icahn's letter.
The shareholder meeting at Dell's Texas headquarters will be the fourth scheduled to vote on the takeover, with the three prior meetings postponed. In August, Dell and Silver Lake raised their offer by 10¢ a share, to $13.75, to woo investors and agreed to pay a special 13¢ per-share dividend by the deal's closing date if the deal succeeds, atop the stock's regular 8¢ dividend. The buyout group maintains that Dell's core business has declined to the point that a radical restructuring is necessary and best performed if the company were private.
Icahn's attempt to upend the deal suffered a decisive setback last month when a Delaware court denied his request for an expedited trial, ruling that Dell's special committee had acted fairly in evaluating bids. "I realize that some stockholders will be disappointed that we do not fight on," Icahn wrote on Monday, going on to accept the ruling that "the actions by Dell were within the Delaware law."
"We therefore congratulate Michael Dell and I intend to call him to wish him good luck (he may need it)," he continued. And for investors who were equally incensed by Dell's board, Icahn offered an invitation: "I hope you will choose to follow me on Twitter where from time to time I give my investment insights."
Before it's here, it's on the Bloomberg Terminal.
LEARN MORE