How Craft-Brewing Rivals Take the Froth Off Boston Beer Founder's Bonus
by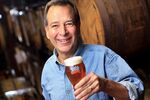 Boston Beer, the company behind Sam Adams lager, has a strange brew when it comes to paying its founder and chairman.
James Koch, the de facto godfather of American craft beer, now has a net worth above $1 billion, according to the Bloomberg Billionaires Index. His wealth has been fueled largely by demand for his company's 70-plus offerings and by an equally robust thirst for Boston Beer shares, which are up tenfold since 2009 and have risen almost 70 percent this year. But the bonus formula devised by the company's board rewards Koch for two seemingly contradictory goals: He gets 20 percent of a predetermined bonus if he succeeds in supporting and cultivating the small-beer sector in the U.S. beverage industry—and he's eligible for the same amount of his bonus if Boston Beer sales outpace the overall sales of its craft-beer rivals, according to SEC filings.
Last year, Boston Beer couldn't quite catch the rest of the craft gang. Small-batch brewers in total posted a 15 percent increase in sales, besting Boston Beer and costing Koch about $78,000 from his 2012 bonus. Boston Beer Chief Executive Officer Martin Roper came up a little dry as well: With 15 percent of his bonus tied to beating craft beer, he missed out on about $186,000.
Still, Koch was deemed about 50 percent effective in cultivating the small-beer movement—that is, his competitors—and this was good for an additional $39,000 in bonus pay.
The U.S. now contains 2,538 breweries, more than at any time since at least 1887, according to the Brewers Association. Koch is a major ingredient in that growth, having consulted and quietly cultivated scores of small breweries over the years. "He's very focused—a brilliant marketer—and he sort of taught us all how to sell beer," David Geary, co-founder of D.L. Geary Brewing, told Bloomberg.
Boston Beer may not be growing quite as fast as the rest of the small-beer sector but it keeps serving up ever-larger returns. The company controls 1.3 percent of the U.S. market and has become the second-largest American-owned brewery. In the first half of this year, the company posted 22 percent increases in both revenue and income. Its market value is 3.5 times higher than Molson Coors and three times that of Anheuser-Busch InBev, based on estimated earnings for this year.
Fresh off his Bloomberg Billionaire certification, thanks in large part to his ownership of roughly one-third of the company he launched, Koch probably isn't fretting too much over his missed bonus target. But its worth noting that he draws a base salary of just $390,000, making for a remarkably sober approach to success. "Having watched my stock price go up and down and up, it seems almost whimsical," Koch told Bloomberg. "I remind people getting rich is life's great booby prize. Any normal person would much rather be happy than rich."
Before it's here, it's on the Bloomberg Terminal.
LEARN MORE