After an Airline Mishap, Painting Over Your Logo Isn't Terribly Effective
Thai Airways hurries to remove its logo from a jet that swerved off a runway
by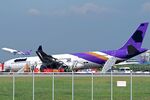 In the world of crisis management, Thai Airways employed an unusual strategy today: painting over its logo on a jet that suffered a landing-gear mishap during which 13 passengers were injured.
Flight TG679 was landing at Bangkok's Suvarnabhumi Airport late Sunday after a flight from Guangzhou, China, with 288 passengers and 14 crew members when the Airbus A330 veered off the runway due to a landing-gear malfunction, the airline said. The passengers suffered mostly minor injuries in the emergency evacuation—unfortunate, but not terribly unusual.
What came next, however, was rather rare: The airline deployed a crew with black paint to "de-identify" the Thai logo on the fuselage, with an airline official telling reporters that the practice followed a "crisis communication rule" at the global Star Alliance—of which Thai is a member—to protect the image of the airline and other alliance members, the Associated Press reported. Not so, Star officials responded.
"We at Star Alliance do NOT have a policy which states that carriers must paint over the logos," spokesman Markus Ruediger wrote in an e-mail. The airline issued a statement today to clarify its position on the matter. "Though THAI generally practices the de-identifying of an aircraft after an incident (or accident), the Company also clarifies that it is NOT a Star Alliance policy or procedure to de-identify aircraft," the national airline said.
The Star Alliance, anchored by Lufthansa and United Airlines, is the largest of the three major global airline alliances, followed by SkyTeam and Oneworld. Another Star Alliance member, Asiana Airlines, did not seek to conceal its logo on a Boeing 777 that crashed July 6 at San Francisco International Airport. That wrecked aircraft sat beside Runway 28L for six days amid the investigation.
Before it's here, it's on the Bloomberg Terminal.
LEARN MORE