A Spanish-Language Indie Sustains Its Box Office Pizazz
By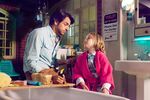 Perhaps it was a post-Labor Day slump or the continuing fallout from apocalypse fatigue, but this past weekend delivered the weakest box office performance of the summer. U.S. theaters brought in just $83.6 million—a fraction of the Memorial Day weekend moviegoing bonanza, which saw a gross of $323 million—and the winner, Riddick, racked up a modest $19 million playing in more than 3,000 theaters.
Lurking behind the latest film starring Vin Diesel's moody alien assassin with night vision was an interesting bright spot: Instructions Not Included, an under-the-radar Spanish-language independent film, earned $10 million in just 347 theaters during its opening run over Labor Day weekend, according to Box Office Mojo, and managed an $8.1 million haul this past weekend after expanding to 717 theaters. That was good for a third-place finish behind Lee Daniels' The Butler, which earned only $800,000 more than Instructions over the weekend—a margin of victory that grows even slimmer considering that The Butler played in 2,613 more theaters. According to Entertainment Weekly the film enjoyed the best-ever debut weekend by a Spanish-language film in the U.S.
Instructions Not Included stars Mexican television actor Eugenio Derbez as an Acapulco-based ladies' man whose life is disrupted when a baby shows up at his doorstep, setting off a search for the mother in Los Angeles. While the film received generally positive reviews, its success was a surprise because it arrived in the U.S. with little or no publicity. Lions Gate Entertainment targeted the import exclusively toward Hispanics, and, as many reviewers have noted, the film doesn't shy away from cultural inside jokes that sail wide of the typical American viewer.
It's just the latest indication of the rapidly changing demographics of the moviegoing public in the U.S. In June, for instance, Fast & Furious 6 rode to a monster $117 million opening powered by an ethnically diverse cast. As Kellvin Chavez, founder of the entertainment site Latino-Review.com, told Bloomberg Businessweek at the time: "[Latinos] make up about 17 percent of the U.S. population, but we're 26 percent of moviegoers." In that film's marketing rollout, stars Diesel and Michelle Rodriguez made strong appeals to Hispanic moviegoers in a bid to build an audience. The success of an indie from abroad with subtitles and minimal marketing shows that such an audience is ready to turn out on its own.
Before it's here, it's on the Bloomberg Terminal.
LEARN MORE