Think Planes Are Crowded? There's Room for Things to Get Worse
by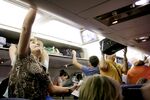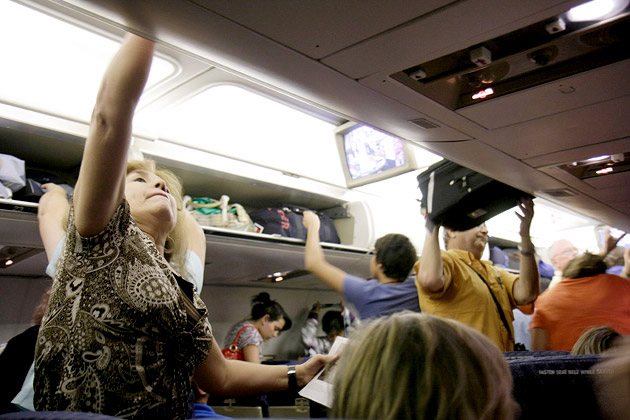 Anyone who has flown in the past year knows that the passenger cabins on U.S. airlines are routinely packed nearly as full as the overhead bins. Here's the bad news: Air travel is likely to become even more crowded, especially on regional jet flights.
Summer, always the busiest season for airline traffic, has been especially robust this year. US Airways Group reported a load factor of 87.9 percent for August, its record for the month and the latest in a series of monthly load records. In May, its proposed merger partner, AMR's American Airlines, hit a record load of factor of 84 percent—and that figure climbs to 88.7 percent in July if you tally only domestic flights. The numbers are similar for other large carriers, such as United Airlines (87.2 percent in July) and Delta Air Lines (87.3 percent in August).
The trend over the past decade has been clear: Higher costs—driven by jet fuel prices—have prompted airlines to pack their planes. The annual average load factor for U.S. carriers rose from 71.9 percent in 2002 to 82.8 percent last year. And carriers aren't even making bigger profits from the crowded planes: The industrywide "break-even" point for U.S. flights has gone from 69.4 percent in 2000 to 80.9 percent last year.
"One reason planes are fuller is because they have to be to avoid losing money," says John Heimlich, chief economist at Airlines for America, the U.S. airlines' trade group. "The airlines had to push really hard on the load-factor lever because they couldn't push hard with the pricing."
And don't assume airlines are seeking to fill every seat on every flight in a bid to grab every possible dollar of revenue. "Volume is expensive," Heimlich said. "Whether it's a restaurant, a movie theater, a plane, a zoo, a nightclub—the more people you process, the more costs you are going to incur." Airlines also must retain a certain level of unsold seats for passengers with full-fare, changeable tickets, work-related travel by their own employees, federal air marshals, and reserved areas where crews can rest. All those keep load factors from reaching anywhere near 100 percent.
One segment of the industry where load factors consistently trail those of the big, mainline carriers is in regional jet operations, where smaller planes make more frequent flights to and from airline hubs. At their client airlines' behest, such regional operators as Republic Airways, SkyWest, Mesa, and Trans States are moving to larger jets and parking their older, 50-seat models, which are no longer cost effective. That change, plus a decrease in daily flight frequencies, will lead to higher load factors on regional operations as well, fitting with the pattern of regional flights typically lagging the loads of mainline operations by roughly five to 10 percentage points.
"You're going to see this systemwide trend of higher load factors continue. The big driver now will be the commuter segment," says Vaughn Cordle, an airline analyst with Ionsophere Capital and a United 777 captain. "That's the segment that is ripe for restructuring."
Another part of the airline industry where you'll find the most crowded planes is on ultra-low-cost carriers Allegiant Travel and Spirit. Both lead their traditional network peers at filling seats—Allegiant hit 91.9 percent in August, while Spirit was at 91.4 percent in July, the latest month it has reported. "Allegiant is unique in that we manage to load," says spokeswoman Jessica Wheeler. "We're always pushing to try to get those load factors as high as we can."
So wear thin clothes to fly—when you're in coach, every millimeter counts.
Before it's here, it's on the Bloomberg Terminal.
LEARN MORE