The Greeting Card Industry Has a Special Message for the Postal Service
By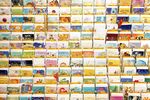 The Greeting Card Association is one of the nation's more cheerful lobbying groups. How else can you describe an organization whose slogan is "making every occasion special since 1941?"
The card makers know how to deliver a political message, too. Earlier this week the association sounded the alarm that the U.S. Postal Service's board of governors might approve an emergency rate increase on Thursday. The lobbying group said it wasn't pointing this out because an increase would reduce the profits of its members and dampen their usual ebullience. Rather, the association said that a rate hike would be deleterious to the ailing USPS itself. The Greeting Card Association was joined in its effort by other large, emphatic mailers, such as the Association of Magazine Media (whose members include Bloomberg LP, owner of Bloomberg Businessweek).
The card makers seemed to prove their way with words on Thursday, when the USPS Board of Governors postponed a price increase decision until later this month. "The GCA and its nearly 200 member companies are glad that the Board of Governors heard our concerns," Rafe Morrissey, GCA's Vice President of Postal Affairs, said in a press release celebrating the post office's decision. "We have consistently stated that increasing rates cannot be part of a sustainable solution because this will add to the Postal Service's structural deficit problem by driving more postal volume to e-commerce competitors."
Perhaps. But the lobbying campaign by large mailers is a reminder of how difficult it is for the USPS to reinvent itself in the digital age. When it tries to reduce its costs, postal worker unions holler. When it tries to raise prices, its customers rebel. Meanwhile, the world's largest mail carrier has been losing $25 million a day because of a decline in first-class mail and a federal requirement to prefund its future retiree health-care costs.
The greeting card manufacturers have put forth their own recovery plan for the USPS entitled, "A Commonsense Solution for a Stronger Postal Service." It would require little suffering on the part of its members. One of its key suggestions is for the USPS to move to cluster-box delivery rather than taking mail to everybody's doorstep, which might mean fewer letter carriers. Not surprisingly, the greeting card people say its ideas would obviate the need for a rate increase.
The trouble is that it will most likely take Congress's help and a combination of reforms to fix the USPS. And while there's little chance that the postal service's constituents will be happy with every single aspect of the end result, that's the legislative process. "We can get this thing fixed," U.S. Postmaster General Patrick Donahoe told Bloomberg Businessweek in May. "But it's going to take agreement and a little bit of sacrifice." That's what the USPS needs more than sympathy from big mailers.
Before it's here, it's on the Bloomberg Terminal.
LEARN MORE