Japan Fishermen Reject Release of Fukushima Water to Ocean
Jacob Adelman and Yuji Okada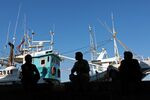 Japan's fishermen rejected any release of contaminated water from Tokyo Electric Power Co.'s Fukushima atomic station into the ocean, a step the country's atomic regulator last week indicated may be needed.
JF Zengyoren, a union of Japanese fisheries cooperatives, said in a statement submitted to Trade Minister Toshimitsu Motegi that the discharge of any irradiated water from the Dai-Ichi plant would be unacceptable, even if contamination levels were brought below legal limits for ocean dumping.
The dispute highlights the question of how to manage the hundreds of thousands of tons of contaminated water building up at the wrecked Fukushima Dai-Ichi nuclear plant and complicates the task of cleaning up after the 2011 earthquake, tsunami and subsequent meltdowns. South Korea expanded an import ban on Japanese fisheries products today.
The Japanese fishermen's group made its comments four days after Nuclear Regulation Authority Chairman Shunichi Tanaka said the release of water, after being treated to remove most contaminants, could be a necessary part of managing growing volumes of irradiated water at the plant.
Tanaka's remark "is not something we fishermen can swallow by any measure," the association said in the statement.
The disclosure in July by the utility known as Tepco that irradiated water is leaking into the Pacific has already set back efforts by Fukushima fishermen to convince consumers their product is safe. The Japanese government estimates the leak at about 300 tons a day.
Bypass Pipeline
South Korea's import ban now includes all items from Fukushima and seven other nearby prefectures, regardless of whether they showed contamination, according to an e-mailed statement from the Prime Minister's Office.
"The measure comes as our people's concerns are growing over the fact that hundreds of tons of radiation-contaminated water are leaked daily from the site of Japan's nuclear accident in Fukushima," Yonhap reported earlier today, citing the Ministry of Oceans and Fisheries.
Tepco is trying to allay fishermen's concerns as it seeks their permission for a pipeline that would channel groundwater around the Fukushima plant's reactors and into the ocean to cut the volume of radioactive water it must manage. The plan was complicated by the Sept. 4 detection of irradiated water in an area that had been thought free of contaminants.
Contaminated Water
Inspectors found 650 becquerels per liter of beta radiation, which includes the contaminant strontium-90, Mayumi Yoshida, a spokeswoman for the utility known as Tepco, said today by phone. That's more than 21 times government safety guidelines covering sea water near the plant for strontium-90, which has been linked to bone cancer.
The samples were taken from a newly dug monitoring well near the storage tank area where Tepco on Aug. 20 reported a leak of about 300 metric tons of water that had been used to cool reactor fuel.
Tepco needs local fishermen to approve their plan to pump groundwater flowing toward the plant directly into the ocean. The objective is to cut the quantity of water flooding reactor building basements. Since the groundwater would pass through the plant's tank areas before entering the bypass system's intake wells, the tainted water found this week could pose a contamination risk.
Toxic Water
"It might be a problem," Yoshida said. "We are investigating further."
Tepco said it had explained to fisheries associations that the water in the bypass system wouldn't touch contaminated areas and therefore can be safely pumped into the sea. Tepco has held at least four meetings with the various cooperatives.
The Fukushima site now has more than 338,000 metric tons of water stored in more than 1,000 tanks, with additional water remaining untreated in reactor basements and service tunnels.
Levels of toxic water are rising at a rate of 400 tons a day as groundwater seeping into basements mixes with cooling water that has been in contact with highly radioactive melted reactor cores. The bypass system would reduce the quantity of contaminated water being stored by 100 tons a day, Tepco has said.
Before it's here, it's on the Bloomberg Terminal.
LEARN MORE