Student Entrepreneurs Get Advice From the Startup Pros
Francesca Di Meglio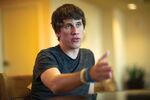 Student entrepreneurs receiving financing from Dorm Room Fund may soon be able to get advice from some of the boldfaced names in the startup world.
The venture capital firm run for and by students announced yesterday that more than 60 entrepreneurs have agreed to mentor members of the investment teams and businesses in which the fund has invested. Started last year by First Round Capital, an early-stage VC firm, Dorm Room Fund runs in Philadelphia, New York, the Bay Area, and Boston.
Known as "RAs," as a play on the fund's name, these mentors have all attended universities where the fund is active. Among them are Foursquare co-founder Dennis Crowley (New York University); Jack Abraham (University of Pennsylvania), the founder and chief executive officer of Milo.com, a local shopping search engine acquired by EBay in 2010; and Katia Beauchamp (Harvard), co-founder of Birchbox, a subscription service for beauty, grooming, and lifestyle products.
Of course, mentors will advise students on hiring, building teams, finding office space, choosing designers, and more practical and strategic items that every business must face. But mentorship should be about more than that, says RA Trip Adler (Harvard), co-founder and CEO of Scribd, the world's largest digital library. "The kind of mentorship that is helpful early on is about the emotions of starting a startup—the ups and downs, thinking of the consumer ahead of money, and things like that," Adler says.
Students will be paired with mentors who seem to be a good fit for them, says CeCe Cheng, director of Dorm Room Fund. Fund organizers will look to see that the student and mentor share common interests and face similar challenges in the businesses they are creating. If there's no perfect match, you will not necessarily be paired with anyone, says Cheng, because the idea is to create long-lasting relationships.
Mentors will also be invited to interact with the group in other ways. Cheng envisions them speaking at the universities where Dorm Room Fund students are attending, contributing at lunch-and-learn sessions, or hosting office hours.
"I hope it creates a cycle of mentorship, where founders of the companies receiving funding later become mentors of other students," says Mediha Abdulhay, member of Dorm Room Fund's Bay Area investment team and a second-year MBA student at UC Berkeley's Haas School of Business.
Join the discussion on the Bloomberg Businessweek Business School Forum, visit us on Facebook, and follow @BWbschools on Twitter.
Before it's here, it's on the Bloomberg Terminal.
LEARN MORE