Sizing Up Porn's Power to Crush the American Workforce
By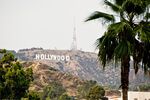 Buried in Friday morning's rather dismal jobs report was a particularly strange bit of government data: The motion picture and sound recording industry shed more than 22,000 jobs in August, a six-percent drop over July's number and the biggest workforce decline of any sector last month.
A couple of theories are buzzing around the Internet about what's behind this dramatic turn of events—and in true Internet style, the theory about porn has proven the most popular. The Washington Post's Jim Tankersley made the case that those lost movie-and-music jobs had something to do with a week-long shutdown in the porn industry from late August, following news that an actress had tested positive for HIV.
Seems like a stretch to say that a hiatus in porn production could kill some 20,000 jobs. Porn is a multibillion-dollar industry, but 20,000 jobs is a lot. Plus, the motion picture job category is pretty choppy when it comes to monthly job gains and losses. Going back 10 years, there are a handful of month-to-month fluctuations of a similar size. Most recently, total motion-picture employment jumped by 60,000 jobs from January to February of this year.
That's not to say the adult-film business didn't contribute to the loss. Porn's "performing pool" includes nearly 3,000 actors and actresses, says Joanne Cachapero, membership director of the Free Speech Coalition, a trade group for the industry. For every person naked in front of the camera, there are a few working behind it or involved in other business capacities. The mechanisms at play can be complicated. "This has an economic ripple effect," Cachapero writes in an e-mail. "No one wants to put out money, and with no money coming in, travel ceases." Still, Cachapero says that "20,000 may seem high but may not be unrealistic."
The seven-day moratorium may have ended on Aug. 27, but it took until this month for business to get back to normal, says Karen Tynan, an attorney who represents adult entertainment production companies in San Francisco and Los Angeles. She notes that the shutdown wasn't isolated to California; production companies in Miami and New York also stopped working.
The job losses come as the movie business closes out its most lucrative summer season ever. Despite some high-profile megabudget flops, North American box office revenues came in at a record $4.7 billion from May to Labor Day, according to Paul Dergarabedian, an analyst at Hollywood.com. To him, the big August job loss is a head scratcher. "I don't understand it," Dergarabedian says.
Movies in production right now are likely timed for a spring 2014 release, and Dergarabedian doesn't see any signs of a coming slowdown next year. "I see a release calendar just as loaded with films as this year," he says, "so I don't think that's it." If Hollywood hasn't stopped, perhaps it's only reasonable to blame porn.
Before it's here, it's on the Bloomberg Terminal.
LEARN MORE