Russia, Turkey Readying for Syria War as Obama Seeks Support
Ben Holland and Selcan Hacaoglu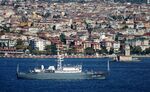 Russia and Turkey stepped up preparations for an escalation of the 2 1/2-year civil war in Syria, in which they're backing opposing sides.
Russia, one of Syrian President Bashar al-Assad's main international allies, sent an amphibious assault ship to join its forces off the Syrian coast in the east Mediterranean, Interfax news agency reported. The Nikolay Filchenkov, which departed Sevastopol today, is the latest reinforcement to the fleet. Two destroyers, a missile cruiser and other vessels were dispatched earlier.
In Turkey, one of the most vocal supporters of the rebels fighting to oust Assad, the army has bolstered its deployment along the 900-kilometer (559-mile) border, where hilltop gun emplacements face Syria. The government set up a decontamination unit to disinfect cars arriving from Syria, on concern they may carry traces of chemical weapons, and said it may commandeer off-road vehicles for military use, Hurriyet newspaper said.
Russia's Vladimir Putin and Turkey's Recep Tayyip Erdogan are among world leaders gathered in St. Petersburg today for a Group of 20 summit, where President Barack Obama is seeking support for his argument that force must be used to punish Assad for allegedly using chemical weapons against civilians. Assad's government denies the charge, and Putin has questioned the evidence that the U.S. says supports it. Erdogan has repeatedly said Turkey will join a coalition against Assad.
Assistance Pledge
Putin said today that Russia, which is already supplying Syria's army, will provide assistance to the country if it's attacked. He said earlier this week that Russia may resume deliveries of the S-300 long-range anti-aircraft missile system, currently frozen, in the event of strikes on Syria that breach international law.
Obama is engaged on the home front too, as the Senate and House of Representatives prepare to debate resolutions authorizing military strikes on Syria. His administration says any attack will be limited and won't be aimed at toppling Assad, though Erdogan and U.S. allies in the Arab world say they'd welcome a more ambitious operation.
The U.S. State Department warned its citizens to avoid travel to Lebanon and began removing non-emergency personnel family members from the embassy in Beirut and an alert for those in Turkey. The embassy, on its website, cited unspecified threats to the U.S. mission and American personnel.
Violence 'Potential'
Separately, U.S. citizens living in or traveling to Turkey were warned that the consulate in Adana in the south is removing some staff and family members because of threats to U.S. facilities. "U.S. citizens traveling to or residing in Turkey should be alert to the potential for violence," the State Department advisory said.
Russia also warned today that any U.S. strikes shouldn't hit Syria's chemical weapons. Targeting the military infrastructure that provides security for the stockpiles would risk a "new dangerous turn" in the crisis, raising the possibility of toxic fallout and proliferation if Syrian rebels seize the weapons, the Foreign Ministry said on its website.
Assad's other key ally, Iran, says a U.S. attack on Syria would escalate a civil war that has already killed at least 100,000 people into a regional conflict. The Wall Street Journal reported today that the U.S. intercepted instructions from Iran to militants in Iraq to attack the U.S. Embassy in Baghdad and other American interests there in the event of a strike against Assad.
Turkish Reinforcements
Turkey, a North Atlantic Treaty Organization member, sent convoys carrying tanks and rocket-launchers to the Syrian border yesterday, and F-16 fighters have been flying patrols along it, according to local media. Patriot missile batteries from fellow NATO members have been installed in the region to help defend against a possible attack from Syria.
Erdogan said in St. Petersburg today that the Syrian rebels need air support to make advances on the ground. Turkey's southern Incirlik airbase has been used in the past by the U.S. to patrol a no-fly zone over northern Iraq.
Erdogan's deputy, Bulent Arinc, said today that imposing a no-fly zone and a safe region for rebels in Syria would ease the pressure from the flow of refugees to Turkey. About half a million people have fled Syria to its northern neighbor. Erdogan said Turkey has spent almost $2 billion sheltering them.
Before it's here, it's on the Bloomberg Terminal.
LEARN MORE