NYC Weekend: Depeche Mode, Passion Pit, Big Fish, Pigs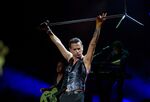 Our picks for the weekend:
NIGHT LIFE
The Delta Machine World Tour rolls into Barclays Center on Friday bringing Depeche Mode. Still packing a punch, the Brit electronica vets perform classics and new tunes "Angel" and "Heaven." Bat for Lashes opens. At 620 Atlantic Ave., Brooklyn. Information: +1-817-618-6700; http://www.barclayscenter.com.
Passion Pit takes over Pier 26 on Friday and Saturday. Hear Michael Angelakos croon hearbreaking lyrics to chipper pop riffs. Best Coast opens. At N. Moore St. and the Hudson River. Information: +1-212-260-4700; http://www.hudsonriverpark.org/events/passion-pit.
STAGE
Watch the end of an era at the Park Avenue Armory, as IBM super-computer Deep Blue beats Chess Grandmaster Garry Kasparov. The world-changing 1997 match is depicted in Matt Charman's "The Machine," directed by Donmar Warehouse's Josie Rourke. The set is a four-sided sports arena filling the armory's drill hall. Runs through Sept. 18 at 643 Park Ave. Information:
+1-212-616-3930; http://www.armoryonpark.org.
Susan Stroman directed and choreographed the new musical "Big Fish," starring Norbert Leo Butz, Kate Baldwin and Bobby Steggert. Based on the novel and film, it's about the stories we tell ourselves and others. In previews at the Neil Simon Theatre, 250 W. 52nd St., for an Oct. 6 opening. Information: +1-877-250-2929; http://www.bigfishthemusical.com.
The great Cherry Jones takes on the role of Amanda Wingfield in this revival of Tennessee Williams's "The Glass Menagerie." The American Repertory Theatre production was directed by John Tiffany. In previews at the Booth Theatre, 222 W. 45th St., for a Sept. 26 opening. Information:
+1-212-239-6200; http://theglassmenageriebroadway.com.
ART
Experience "The Mindful Art of Thich Nhat Hanh" beginning Saturday. There are 88 of the venerable Zen master's calligraphic works on view through Dec. 31 at Deepak Homebase, located in the ABC Home store, 888 Broadway. At 3 p.m. you can hear him talk on "The Country of the Present Moment: Wisdom for Global Peace and Happiness" at the Beacon Theatre, 2124 Broadway. Information: http://www.tnhtour.org.
Blow your mind at the Museum of Modern Art's "Images of an Infinite Film," which looks at the relation between memory and meaning in the world through the work of Hollis Frampton, Kerry Tribe and Paul Sharits. Runs through March 2 at 11 W. 53 St. Information: +1-212-708-9400; http://www.moma.org.
OUTDOORS
At this year's Pig Island you can sample crispy pig-ear lettuce wraps, a smoked porchetta sandwich and a mer-pig: a seaweed wrapped hog with secret sauce. There are imaginative dishes from 25 chefs plus New York state beer and wine. Saturday at the Ikea Waterfront in Red Hook, Brooklyn. Information: http://www.pigisland.com.
Sorceresses, kings and heroes come to life in the garden of the Cathedral Church of Saint John the Divine as the Mettawee River Theatre Company brings "Taliesin" to the city. Ralph Lee uses splendid puppets and masks to tell the medieval Welsh tale. Opens Sept. 6, closes Sept. 15 at 111th St. and Amsterdam Ave. Information: +1-212-929-4777; http://stjohndivine.org.
MUSIC
Head over to Le Poisson Rouge on Friday for "The Named Angels," a night of contemporary music chosen by composer Mohammed Fairouz, including his "Tahwidah," along with works by Daniel Bernard Roumain, Matt Marks and Du Yun. At 158 Bleecker St. Information: +1-212-505-3474; http://www.lepoissonrouge.com.
(Zinta Lundborg is an editor for Muse, the arts and leisure section of Bloomberg News. The opinions expressed are her own.)
Muse highlights include Lewis Lapham's podcast and Greg Evans on movies.
Before it's here, it's on the Bloomberg Terminal.
LEARN MORE