Not Looking for Work: Labor-Force Participation Hits 35-Year Low
By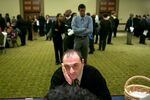 The unemployment rate fell in August but for the worst of reasons: Many Americans stopped looking for work so they weren't counted among the unemployed. What's harder to tell is why they stopped looking. The political right chalks it up to laziness and government coddling, while the political left says people are giving up looking because a dysfunctional economy isn't producing enough jobs.
The Bureau of Labor Statistics said the August unemployment rate was 7.3 percent, down a tick from 7.4 percent in July. The worrisome part is why the rate fell. The size of the workforce declined by about 300,000 and the participation rate fell to 63.2 percent from 63.4 percent—the lowest since August 1978. The participation rate is the number of people either working or actively searching for work as a share of the working-age population. It rose steadily over the years as more women entered the workforce before falling sharply in the 2007-09 recession, and it hasn't recovered since.
Also disappointing was the payroll report. While the 169,000 added to employers' payrolls in August wasn't far below the 180,000 median prediction of economists surveyed by Bloomberg, there was a downward revision of 74,000 jobs to the previous two months' reports. The government said June payrolls grew by only 172,000, rather than 188,000; July's grew by only 102,000, instead of 162,000. In other words, while employment did grow in August, it was from a substantially lower starting point than previously believed.
Some quick reactions from observers:
• John Silvia, a Wells Fargo economist, noted that declining participation in the labor force is "bad for financing entitlements"—fewer workers to support recipients of Social Security and Medicare.
• Mark Grant, an analyst for Southwest Securities, called the report "dismal" in a note to clients, and said it could cause the Federal Reserve to delay its plans for tapering its $85 billion-a-month bond-buying program.
• Paul Ashworth, chief U.S. economist at Capital Economics in Toronto, predicted that the Fed would still go ahead with a tapering announcement at its next meeting later this month, but added, "we're not going to pretend this is a certainty."
• The National Employment Law Project, which represents low-wage workers, noted that much of the August job growth was in retail and food services, which typically offer low-paying and part-time jobs.
The monthly jobs report is two reports in one. The payroll figure comes from a survey of workplace establishments. The unemployment rate comes from a survey of households. The household survey found that employment actually fell by 115,000 in August, but was offset by a decline of 312,000 in the labor force, causing the slight downtick in the jobless rate.
Other indicators in the report were more positive. Average weekly hours rose to 34.5 from 34.4, average hourly earnings rose 0.2 percent, and temporary employment—sometimes a leading indicator of demand for workers—rose by 13,000.
Before it's here, it's on the Bloomberg Terminal.
LEARN MORE