Hey Samsung, the Dumbwatch Industry Has You Beat
by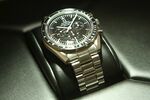 Swatch has made a self-winding timepiece with just 51 components. As Samsung and other tech giants race to bring smartwatches to the public, slashing the number of moving parts in a timepiece is what counts as an extraordinary advance in the 500-year-old dumbwatch industry.
The latest from Swatch doesn't send e-mail or measure your pulse. It won't display pictures or make phone calls. The pitch, in fact, makes the new product sound like the anti-smartwatch: "Never before," promises Swatch, "has simplicity been made so intriguing and surprising." But it's likely to deliver one thing that may very well prove beyond the reach of the companies turning out wristband computers: healthy, predictable sales.
Old-fashioned watches powered by gravity and quartz crystals are ticking along handsomely. Swatch, the closest thing there is to a pure-play watch company, is performing just as well as Apple and Samsung, by some measures. In the first half of the year, the Swiss company posted $4.3 billion in sales, a 9 percent increase from a year earlier. Almost all of that revenue came from its 20 brands of watches, including Tissot, Hamilton, and its colorful namesake. Income in the six-month period was $820 million, which equates to a net profit margin of 19 percent—just slightly less than Apple's profitability these days and far ahead of Samsung's 12 percent margin over the first half of the year.
Fossil, which gets about 75 percent of its revenue from watches, is setting a similar pace. Its sales in the first half of the year surged 13 percent, to $1.4 billion, as consumers snapped up its timepieces licensed under a variety of brands, including Burberry and Michael Kors. Income in the period increased 19 percent, to $144 million.
New business for old-school watches is coming from the growing global middle class, which has vastly expanded the ranks of those who can afford to spend hundreds of dollars and up on a new accessory. Meanwhile, watchmakers have burnished their product's reputation as a fashion item and made progress in luring women. That has helped ensure that more people buy more than one watch.
It helps that watchmakers are rewarded for essentially not innovating. One of the top models in the industry, the Omega Speedmaster, has hardly been altered in the 55 years it's been on the market—and that's treated as a favorable selling point. Buzz Aldrin wore one on the moon (outside his spacesuit), and you can buy pretty much the same thing today for roughly $4,000.
"In Switzerland, you don't just forge full speed ahead," Nayla Hayek, the chair of Swatch's board, wrote in a recent letter to shareholders. Imagine, for a second, a statement like that coming from a Silicon Valley executive.
Not surprisingly, tech-focused companies are taking the exact opposite approach to wristwear, winding up innovation as fast as they can in an ongoing—and still unsuccessful—bid to break into the market. Samsung took another crack at it this week, unveiling a hefty smartwatch dubbed the Galaxy Gear that's equipped with a touchscreen, a camera, microphones, and a speaker for making phone calls. At $299, it would be on the cheaper end of the lineup of Swatch-made products, and it still might not sell nearly as well as any of them (if early reviews are any indication).
Qualcomm, the biggest maker of chips, is releasing a similar product dubbed Toq that will retail for up to $350 and include a headphone jack. And the tech world has been buzzing for months about the prospect of a smartwatch from Apple, a company on the hunt for another iPod-like breakthrough in consumer gadgets.
It's possible that the fancy new wrist computers from the giants of tech and mobile hardware will dent the old-fashioned watch business. Cell phones and their universal ability to tell time, however, don't seem to have slowed demand for dumbwatches. Analysts at Goldman Sachs, for one, don't seem concerned. Their price target for Swatch suggests the stock will climb 40 percent in the smartwatch-heavy months ahead.
Before it's here, it's on the Bloomberg Terminal.
LEARN MORE