GM, Ford Reap Rating Upgrades Along With Booming Sales
By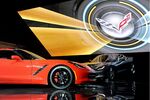 A good season keeps getting better for U.S. automakers. Standard & Poor's (MHFI) raised its credit outlook for both General Motors and Ford Motor today, after August sales that were the highest of any month in more than six years:
GM's outlook is a sign the ratings company will probably boost the largest U.S. automaker to investment grade. S&P increased Ford to BBB-, the last major ratings company to rate the carmaker investment grade. "The outlook revision reflects the potential for an upgrade by the end of 2014," S&P said in a statement. "We will monitor GM's ability to maintain market share and profitability in North America."
New vehicle sales in the U.S. rose 17 percent last month over the same period in 2012, from 1.29 million to 1.5 million, as this handy Bloomberg News graphic shows. The market was so hot that Ford sold one of its F-Series trucks every 38 seconds, calculates Bloomberg Businessweek's Kyle Stock.
Investors betting on a car-industry comeback have done well this year: Shares of Ford and GM have climbed 32.4 percent and 26.5 percent, respectively, well ahead of the 16 percent gain in the S&P 500-stock benchmark. Toyota Motor stock has advanced 34.8 percent this year when measured in U.S. dollars.
Americans older than 55 are propelling sales, as younger consumers have both weaker finances and less of a love affair with driving. "For people who grew up and lived in the 20th century, the car was … a visible expression of you and your personality," John Wolkonowicz, an automotive historian and former Ford product planner, told Bloomberg Businessweek's Keith Naughton. "A 20-year-old doesn't see the car the same way."
Before it's here, it's on the Bloomberg Terminal.
LEARN MORE