Apple's Price-Fixing Penalties Don't Go Beyond E-Books
By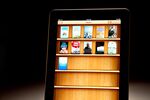 When a court found Apple guilty of being the ringleader in an industrywide scheme to fix the price of e-books, the Justice Department sought to use the decision to change not only the way the company sold e-books, but the way it sells every other type of digital content. Yet any sweeping change to the App Store will have to wait: In a ruling released Friday, Judge Denise Cote gave the government much of what it wanted—but only in the limited sphere of digital books.
Cote's ruling prohibits Apple from entering into so-called most-favored-nation clauses with book publishers, which guaranteed Apple's price would be as low as its competitors', while also prohibiting Apple from signing agreements that let publishers set the prices of their own books. Depending on the publisher, these restrictions on agency agreements last two to four years. To stop any nascent conspiracies before they get rolling, Apple is also restricted from telling publishers what it is doing with their competitors, including the strategies they're using and the prices they've set. The company can't do anything with publishers that would be likely to lead other retailers to increase, fix, or set prices on the e-books they sell. An external compliance monitor will make sure Apple isn't violating the agreements.
The Justice Department's wider request would have established similar restrictions throughout Apple's App Store. Anticompetitive behavior in one field would look the same in another, prosecutors argued. But the judge said she was worried about hampering the company's ability to innovate. Her ruling does say that Apple can't treat companies selling e-books through the App Store any differently than those selling other types of digital goods, to protect Apple against making it particularly difficult to compete against its own e-books. But she specifically allowed the company to experiment with new kinds of apps that would sell digital content in different ways.
Apple has warned that further restrictions on the way it sells content would hamper competition. We'll see if that's true for e-books. But for now at least, the company is off the hook for everything else.
Before it's here, it's on the Bloomberg Terminal.
LEARN MORE