The Increase in Small Business Jobs Is the Smallest Since May
by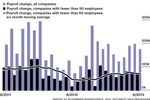 Businesses with fewer than 50 employees added about 71,000 jobs in August, less than in each of the previous two months, according to a report released this morning from payroll services provider ADP. Overall, private payrolls increased by 176,000, ADP's data show, which was also the smallest rise since May.
The job gains, which aren't dramatic enough to bring down unemployment quickly, follow the slow but steady pattern of the past two years. The government spending cuts that began in March and the impending health reform mandates don't seem to be having much of an effect, according to Mark Zandi, chief economist at Moody's Analytics, which produced the report with ADP. "There is little evidence that fiscal austerity and health-care reform have had a significant impact on the job market," he said in a news release (PDF).
This spring, employment at small businesses exceeded its pre-recession level, according to ADP's data, while larger employers have lagged in hiring. The company's private payrolls report precedes the U.S. Department of Labor's official employment number, which is due to come out on Friday.
Before it's here, it's on the Bloomberg Terminal.
LEARN MORE