The Giant Sucking Sound: Why Is Oil Leaving Cushing's Tanks So Fast?
by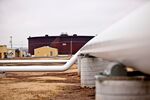 In the last two months, traders and oil companies have been moving their crude oil out of the giant tanks in Cushing, Okla., faster than at any time in recent memory. Since late June, crude inventories at the country's biggest oil storage hub have plunged some 40 percent, from about 50 million barrels to 34 million as of Aug. 30.
The drawdown effectively marks the end of an historic glut of crude that built up in Cushing over the past three years, as double-digit increases in domestic oil production overran the U.S.'s ability to move it around. "What this really reflects is the removal of the bottleneck and a rebalancing of the country's pipeline infrastructure," says Tim Evans, an energy analyst at Citigroup.
The pipeline industry has worked feverishly to reorient the country's oil pipelines around new sources of domestic crude production in the middle of country. New pipes have been built and old ones reversed to get more crude out of places such as North Dakota and Oklahoma and into refining hubs along the Gulf Coast. That's essentially the opposite of what they were intended to do, when increasing imports needed to be piped from the coasts to the interior of the country.
Last year, Enterprise Products Partners and Enbridge reversed the flow of the 500-mile Seaway Pipeline to take crude out of Cushing and into Freeport, Tex. After a slow ramp up, and some hiccups along the way, Seaway is now pumping about 300,000 barrels per day out of Cushing.
Oil from the Permian Basin in West Texas that used to flow into Cushing is now getting piped straight to refiners outside Houston. In April, Magellan Midstream Partners' Longhorn Pipeline reversed its flow and started moving crude from El Paso into Houston. In June, Sunoco's Permian Express pipeline started moving about 90,000 barrels of crude per day out of Wichita Falls, Tex., and into Port Arthur.
In July, BP's massive refinery in Whiting, Ind., restarted after a nine-month modernization process and is now funneling more crude out of Cushing.
Changes in the oil futures market have also killed the longtime incentive for traders to store oil in Cushing. Around late June, just when oil really started to pour out of Cushing, the West Texas Intermediate contract (the benchmark for domestic crude) switched from what's called contango—a commodities term that means prices are expected to rise in the near future—and into backwardation, where prices are expected to fall.
During contango, a contract to buy oil a month from today costs more than the current price. As long as the price of oil is expected to rise in the future, there's an incentive to store it and sell it for a higher price down the road. For the last few years, as WTI was in contango, oil traders with access to space in Cushing could sell futures contracts to lock in that higher price a month or two later and then just sit on it.
Now that futures contracts are selling for lower than current prices, that trade has reversed and storing crude now costs money. As a result, traders have spent the last two months moving their crude out of Cushing as fast as possible.
Before it's here, it's on the Bloomberg Terminal.
LEARN MORE