Nevada's Brothels Hurt by Online Competition, State's Weak Economy
Local joblessness and Internet freelancers hurt Nevada's brothels
by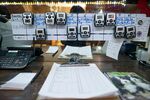 In a dim parlor furnished with red velvet couches and a stripper pole, Brooke Taylor is having a sale on herself. "I offer a lot more specials and discounts and incentives for people to come in to see me," says Taylor, 32, a brunette prostitute in a short, green dress at the Moonlite BunnyRanch outside Carson City, Nev. "People are looking for deals."
The discounting is a sign of the lean times at Nevada's legal brothels. The houses of prostitution, which took root in the mid-1800s silver-mining boom, have dwindled to about 19 from roughly 36 in 1985, according to George Flint, an industry lobbyist. The state's flagging economy (it had America's highest unemployment rate in July, 9.5 percent), decreased patronage by truckers squeezed by fuel costs, and the growing use of the Internet to arrange liaisons are to blame. "A lot of our clients don't have the discretionary income they had six years ago," says Susan Austin, 63, the madam of the Mustang Ranch in Sparks, about 15 miles from Reno. "The ones that can come in, they aren't spending quite what they were spending before."

That's bad news for rural governments in places such as Lyon County, home of the BunnyRanch. In the fiscal year ended June 30, Lyon's four brothels paid $369,600 in licensing fees and $17,800 for the prostitutes' work permits, plus room and property taxes, says County Comptroller Josh Foli. (The state gets sales tax on T-shirts and other merchandise.) The revenue is welcome in a county where total tax receipts have fallen 12 percent since 2009.
The brothels operate pretty much like any small business: Visitors select from a lineup of women, negotiate a price, and pay a cashier in advance. The women, independent contractors, say they typically give half to the house. Dennis Hof, owner of the BunnyRanch, says customers spend $200 to $600 on a visit.
Austin, who says she became a prostitute at 49 before becoming a madam, says Mustang Ranch sees fewer clients than five years ago, though she wouldn't provide figures. "They're getting less services because they're paying less, but they're still seeing their favorite ladies," Austin says in the brothel's Italian suite, which features a four-poster bed, tiger-print carpet, and a hot tub. "It's like anything. When the economy takes a dive, you just live with less frills."
Bordellos were woven into the fabric of the American West in the days of the pioneers, says Barb Brents, a sociology professor at the University of Nevada, Las Vegas. While some states banned the establishments, Nevada left the question to local governments in counties with fewer than 700,000 residents. Ten of the state's 17 counties allow them. Says Brents: "Brothels operate on an idea that men are a certain way, and women are a certain way, and there's a need for these services."
Fewer people in Nevada are seeking sex within organized houses, however. "A brothel is an intermediary," says Scott Peppet, who teaches law at the University of Colorado in Boulder. "It's pulling together women so it's easy for buyers to find them." He says that role is now being filled by the Internet.
In Las Vegas, where prostitution is outlawed, women increasingly offer themselves online as "escorts." On Aug. 25 alone, Backpage.com, a website advertising adult services, had more than 500 listings in Las Vegas, with come-ons such as "Teach Me … Spank Me … Pull My Hair!!!!" and "Fun, freaky, flirty, fulfill, favored, fetish friendly."
Many women, though, see freelance escorting as dangerous work. Some Nevada brothels have guards and rooms with panic buttons, and workers must be examined by a doctor weekly. "There's a huge benefit for us working girls to work in this environment as opposed to escorting," says the BunnyRanch's Taylor. "We're tested here. It's safe." And the pay can be more than competitive. Taylor, who's appeared on the cover of Hustler magazine, began at the BunnyRanch on New Year's Eve, 2005, and learned she could earn in an hour what she made in two weeks as a case manager for adults with developmental disabilities.
Mike Yeager, 65, owner of a small brothel in Winnemucca on Interstate 80, says he's weathered the recession, thanks to a steady clientele of truckers, hunters, and gold miners, drawn in by a sign trumpeting "Girls, Girls, Girls! Truckers Welcome — Get Off Now" on the roadside. There's also plenty of business discipline: The brothel has a $100 minimum, and timers count down patrons' sessions. Sitting at the bar, Yeager predicts a stable future. "Put a couple of girls in here," he says, "and you're always going to make money."
Before it's here, it's on the Bloomberg Terminal.
LEARN MORE