Hurt by Housing Bust, Black Homeowners Miss Out on the Recovery
Hit hard by predatory lending, blacks see homeownership rates fall back to 1995 levels
by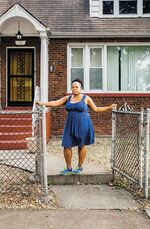 Helene Pearson's belief in homeownership was shattered in Roseland, the mostly black Chicago neighborhood where President Obama got his start as a community organizer. Pearson, who bought her two-bedroom, red-brick bungalow on South Calumet Avenue for $160,000 in 2006 with a high-interest loan, put it on the market a year ago for $55,000—and didn't attract a single offer. Her bank has agreed to take it back in exchange for canceling her remaining mortgage debt. "I was so excited to buy my first house right down the street from my mother, but they got me good," says Pearson, a 35-year-old guidance counselor and mother of two girls. "This scarred me so badly that I never want to buy again."
Most Americans are finding that the real estate crash is finally behind them and that their personal wealth is back to where it was during the boom. For many blacks in the U.S., though, years of economic progress have vanished. The homeownership rate fell from 50 percent during the property boom to 43 percent in the second quarter, the lowest since 1995. The rate for whites stopped falling two years ago, settling at about 73 percent, only 3 percentage points below the 2004 peak, according to the Census Bureau.
The median wealth of white households rose to a record 19 times that of blacks in 2009, according to a Pew study. It fell to 14 times in 2011 as the economy recovered. Eleven percent of black borrowers lost their homes to foreclosure during the housing crash, almost double the rate for whites, according to a 2012 Center for Responsible Lending report. And blacks' unemployment rate is almost twice that of whites. "African Americans are starting way behind into this recovery," says Spencer Cowan, vice president for research at Woodstock Institute, a Chicago-based nonprofit that researches fair lending, foreclosures, and wealth creation. "Because African American buyers were last into the market and bought at the most inflated prices, when the market deteriorated, they were the ones who lost the most."
When Obama took office in 2009, he inherited an economic and housing crisis that disproportionately affected minorities. In a speech on Aug. 28, the 50th anniversary of Martin Luther King Jr.'s March on Washington, Obama called for expanding King's dream of racial equality to include economic opportunity for all. "Dr. King explained that the goals of African Americans were identical to working people of all races: decent wages, fair working conditions, livable housing, old age security, health, and welfare measures—conditions in which families can grow, have education for their children and respect in the community," Obama said at the Lincoln Memorial.
Roseland provides a case study in how the housing crash devastated poor neighborhoods. Almost 40 percent of borrowers there took out high-cost mortgages in 2005 and 2006 as lenders, backed by Wall Street, targeted minority home buyers across the country for loans that allowed lower credit scores and reduced down payments, or featured interest rates that would start low and rise over time.
Today, almost 1 in 10 Roseland properties is vacant, according to the Woodstock Institute, and the area's homeownership rate fell to 57 percent in 2010 from 64 percent in 2000. The median home price has dropped to $28,000 in the second quarter, from $119,000 in 2005, according to research firm Midwest Real Estate Data. The remaining homeowners, many of them elderly, live surrounded by boarded-up houses. Gang violence has led to 16 murders this year as of Aug. 30.
"It's going to take a generation to get back to the point where homeownership can build wealth in this community," says the Reverend Alvin Love of the Lilydale First Baptist Church. He remembers the day in the mid-1980s when a young community organizer rang the doorbell at his church. Unemployment was on the rise in the predominantly black neighborhood after local steel mills had closed, and Obama, who worked with a church-based community group, was looking for allies to support job training programs. In 1986, a year after Obama arrived in the community, the Woodstock Institute released a study of 500 Chicago-area financial institutions, showing "huge inequalities" in the distribution of housing credit, favoring suburbs over poor city neighborhoods such as Roseland, which had become increasingly segregated.

The housing boom of the last decade led to a different kind of discrimination, known as reverse redlining—the practice of steering residents of minority neighborhoods into high-cost mortgages, resulting in a flood of foreclosures when the market crashed. Many of the minority borrowers who were given subprime loans would have qualified for prime loans with better terms, according to the U.S. Department of Justice.
Now that home prices in many areas are recovering, African Americans are facing a fresh set of obstacles. Cheap properties are in short supply because they're being purchased by house flippers, private equity firms such as Blackstone Group, and other buyers who can pay cash. Nationally, the median house price rose 13.7 percent in July from the previous year as almost 1 in 3 properties was purchased with cash, according to the National Association of Realtors. First-time buyers, who historically accounted for about 40 percent of purchases, represent only 29 percent of today's buyers, according to NAR.
Dajeune Tillman, who works in the insurance billing department at a Los Angeles-area hospital, has been looking for a larger place with a backyard for herself and her 5-year-old son since she qualified a year ago for a $109,000 mortgage from the nonprofit Neighborhood Assistance Corporation of America. The loan allows low- to moderate-income borrowers to purchase with no down payment and without paying closing costs. Tillman keeps losing to investors paying cash and buyers with traditional mortgages. "I get beat out even before I get a chance to make an offer," she says. "All the investors do is they come in, fix the houses and flip them up, and crank the prices above what anybody can afford."
Before it's here, it's on the Bloomberg Terminal.
LEARN MORE