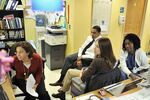 The new Obamacare insurance marketplaces open for business in 26 days. Today the Kaiser Family Foundation is out with the first broad study (pdf) showing exactly what the millions of uninsured Americans who are about to go shopping for health plans can expect to pay for individual coverage. The big takeaway: These aren't prices that will break the bank.
"For the most part insurers seem to find this market attractive and they're pricing accordingly," Larry Levitt, a senior vice president at Kaiser, told Bloomberg News's Alex Wayne. (In a separate study of 10 states, Alex also reports, the Rand Corp. found that fears of skyrocketing premiums have been overblown. "Our analysis found no widespread trend toward sharply higher prices in the individual market," Christine Eibner, a Rand senior economist, said in a statement with the report.)
Kaiser combed through the insurance plans and pricing options that will be offered in 17 states, as well as in Washington, D.C. Buyers will have five different levels of coverage to choose from, as mandated by the law. On average, the cheapest plans, known as "bronze" offerings, will cover about 60 percent of a patient's medical costs. A 40-year-old in Baltimore would get the best rate: $146 a month. In Seattle, Providence, Cleveland, D.C., Los Angeles, Denver, and several other major cities (all broken out on page 4 of the report), 40-year-olds can expect to pay between $150 and $250.
New Yorkers and Vermonters are in a special situation. It pays to be older in these two states; young, healthy people won't be enthralled by the options. That's because, unlike in other states, where premiums generally vary by age, in New York and Vermont everybody pays the same price. Both 25-year-old and 60-year-old New Yorkers can expect to pay $308 a month for the bronze plan.
Cross the state line into Connecticut, and a bronze plan costs a 60-year-old 60 percent more: $493 a month. The 25-year-olds, meanwhile, would be better off moving to Portland, Ore., where the bronze offering comes in at just $130. As we know, Portland is the city where young people go to retire.
Before it's here, it's on the Bloomberg Terminal.
LEARN MORE