Gone in 90 Seconds: America's Quickest-Selling Cars
by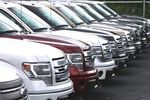 U.S. consumers bought cars more briskly in August than they have in six years, according to a batch of sales data released yesterday. Low-interest rates, gathering momentum in consumer confidence, and pent-up demand are combining to fuel the gains.
Toyota sold 23 percent more vehicles than it did in August last year, General Motors announced a 15 percent gain, and Ford and Chrysler both posted 12 percent increases. The spending spree is so frenzied that car companies are running short of ways to add descriptive context to the dizzying data. Ford, in particular, appeared challenged in this regard. The whopping 71,115 of its F-Series pickups sold last month, company executives decided, would be better appreciated by analysts on the conference call in an unusual metric: seconds per sale.
Is it maybe a bit of a gushing way to look at something? Sure. But we figured Ford's sales-per-second stat would be a fine way to make a little sense of just how brisk America's car buying has been. We crunched the new sales data and found seven models that were gone in 90 seconds or less last month—a target that required almost 32,000 vehicles zipping off of lots in 31 days.
Here's the list (with 2012 data in parentheses):
1) Ford F-Series: 38 seconds per sale in August 2013 (46 seconds in August 2012) | Total vehicles: 71,115 (58,201)
2) Toyota Camry: 60 seconds (73 seconds) | 44,713 (36,720)
3) Chevy Silverado: 61 seconds (70 seconds) | 43,603 (38,295)
4) Honda Civic: 68 seconds (108 seconds) | 39,458 (24,897)
5) Honda Accord: 69 seconds (77 seconds) | 38,559 (34,848)
6) Honda CRV: 77 seconds (112 seconds) | 34,654 (23,877)
7) Ram (a Chrysler pickup): 81 seconds (106 seconds) | 33,009 (25,215)
The Toyota Prius, meanwhile, was (quietly) closing on the pack with almost 27,400 vehicles sold last month—one every 98 seconds.
Before it's here, it's on the Bloomberg Terminal.
LEARN MORE