pursuits
Chobani Issues Moldy Recall; Yoplait Pours It On
By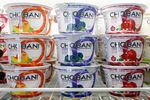 The Greek yogurt business turned a bit sour today, as Chobani recalled an unidentified amount of its popular product.
The company didn't say how much yogurt was affected, but the Food and Drug Administration notice urged consumers to dump a range of Chobani flavors and sizes, from tiny tubes of "Chillin Cherry" to 32-ounce tubs of "Plain 2%."
The formal recall relates to yogurt with "best by" dates between Sept. 11 and Oct. 7 and comes about a week after Chobani had encouraged retailers to pull its yogurt off shelves because some containers were showing "swelling and bloating." Chobani did not return calls but said in an online statement that the affected yogurt came from its Idaho plant and represents only about 5 percent of Chobani product on the market.
Chobani's chief executive, Hamdi Ulukaya, also told the Associated Press the issue was a caused by a fairly common type of mold and has been "totally fixed." "It shook us up," he said.
Chobani's competition, however, seized on a chance to gain market share on a rare stumble from a company that lured millions of yogurt fans away from traditional blends. Greek-style offerings account for almost half of America's $7.6 billion yogurt market, and Chobani controls about 40 percent of that segment, according to Sanford Bernstein data.
Late yesterday, Yoplait tweeted the following:
Now's the time to try NEW delicious Yoplait Greek. pic.twitter.com/dSYgHAH8c8

— Yoplait Greek (@YoplaitGreek) September 5, 2013
This afternoon, it added:
Delicious, strained Greek yogurt isn't hard to find. Try the new Yoplait Greek. pic.twitter.com/qO4wMQBqqa — Yoplait Greek (@YoplaitGreek) September 5, 2013
Danone's Oikos, Chobani's closest competitor, was silent on the social-media front.
Chobani, meanwhile, tried to put its own spin on the situation. It wrote on its website: "We're committed to crafting only the best-tasting, highest-quality yogurt made with only natural ingredients, which means all of our products are free of preservatives."
Before it's here, it's on the Bloomberg Terminal.
LEARN MORE