B-Schools Get Into the Cybersecurity Business
Francesca Di Meglio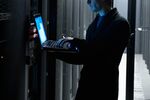 As companies become attuned to the threats posed by hackers, business schools are increasingly offering classes in cybersecurity, a once-obscure specialty of computer science and engineering programs.
Marisa Viveros, vice president of cybersecurity innovation at IBM in Armonk, N.Y., says the need for companies to embed information-security measures in all aspects of their operations is generating demand for business school graduates with cybersecurity skills. In fact, the talent shortfall is so big it could take up to 20 years to close the gap, according to a report by the U.K.'s National Audit Office that she cited in a recent blog post.
IBM is addressing the shortage by giving schools money. Since June 2012, the company has provided technology or materials to 100 schools and funding to about 20 universities around the world. The University of South Carolina offers an IT for Managers class that incorporates IBM resources such as the company's twice-a-year X-Force Trend & Risk report, an in-depth analysis of the latest Internet security threats.
Other schools are going it alone. Georgia Tech, for example, offers a certificate program in cybersecurity, and George Mason University offers an MS in Management of Secure Information Systems.
J.P. Auffret, the director of the George Mason program, says business schools can play a crucial role in safeguarding the nation's IT infrastructure. Educators at business schools can teach leadership, strategy, and teamwork, all of which are necessary in managing cybersecurity in the corporate world and in government, he says. Launched in January 2012, the program is aimed at those with an average of 15 years in the workforce. The 20 to 30 students in each class attend classes on Saturdays for 16 months. About one-third of them have military experience; 30 percent to 40 percent of them have security clearances.
Many in the program are eyeing executive roles, such as chief information security officer. The students take a capstone course that lasts nine months and involves forming teams to address a real security challenge facing a company or government agency. They also travel overseas for seven to 10 days to meet with corporate leaders and compare cybersecurity policies in different countries. Tuition is $49,600 and includes travel for the international residency, books and materials, and meals.
At Loyola University's Sellinger School of Business, business professionals can sign up for a part-time, one-year, graduate-credit cybersecurity certificate program. Launched in 2012, it focuses on exposing students to relevant technology, strategic thinking in cybersecurity policy development, and hands-on experience in cybersecurity management, according to the program's website. Students can take classes as part of their MBA studies or as a standalone. Tuition is about $13,650, and books and materials are $675. About 25 students are in the introductory courses, and 10 are in the advanced classes.
Cybersecurity hasn't reached the same level of popularity as big data analytics courses. "Cybersecurity is a specialty field that is immensely important to companies and yet a bit hidden, until something happens that exposes their data," says Gloria Phillips-Wren, a professor at Sellinger. She says the programs fill a niche that's needed: educating business leaders on the potential threats before it's too late.
Join the discussion on the Bloomberg Businessweek Business School Forum, visit us on Facebook, and follow @BWbschools on Twitter.
Before it's here, it's on the Bloomberg Terminal.
LEARN MORE