The Atlanta Fed Sees Jobs in the Bottom of a (Craft) Beer Barrel
by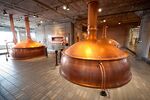 Here's a good reason to quit your office job and start a microbrewery: People love beer, and not just anybody. Investment bankers, lawmakers, and economic analysts have been salivating over the craft brewing business in recent months.
An analyst at the Federal Reserve Bank of Atlanta noted last week that Alabama's growing cohort of microbrewers has bucked employment trends:
"There are currently 19 active breweries in Alabama, up from seven at the end of 2011. Employment in Alabama at these establishments, although modest, is also growing very fast, according to the Guild. From just 42 people in 2011, the number of jobs in the state's craft beer industry is expected to rise to nearly 200 in 2013.
"A recent macroblog post noted that nationally, the employment recovery in small business was lagging larger firms' rebound. In addition, the Atlanta Fed's twice-yearly survey of small businesses in the Southeast found that in the first quarter of 2013 the outlook for hiring remained essentially unchanged from levels seen in the third quarter of 2012."
Cities have enjoyed the benefit of small brewers for decades, Tali Arbel reported for the Associated Press in July: The appearance of microbreweries has helped revitalize rundown neighborhoods in New York, Boston, and elsewhere. They also like craft beer in Congress, where the House Small Brewers Caucus has grown to more than 100 members since it was founded in 2007.
As for the investment bankers, they see craft brewers as acquisition targets for private equity firms and beer conglomerates. It's not hard to see why: Craft brewers' revenues increased 17 percent, to $10.2 billion, in 2012, according to Susan Remy, an analyst at the Birmingham (Ala.) branch of the Atlanta Fed. In Alabama, craft beer production more than doubled last year after the state loosened regulations on brewers.
Before you sink your career into the bottom of a beer barrel, note that it's a crowded field. More than 2,700 U.S. brewers had active permits last year, according to the Beer Institute, up 19 percent from the year before.
Before it's here, it's on the Bloomberg Terminal.
LEARN MORE