Senate Panel Leaders Agree on Draft Syria Force Measure
Indira A.R. Lakshmanan and Kathleen Hunter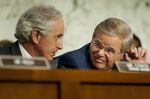 The Republican and Democratic leaders of the Senate Foreign Relations Committee have agreed on a draft resolution authorizing military force in Syria that would set a 90-day limit on any U.S. action.
"Together we have pursued a course of action that gives the President the authority he needs to deploy force in response" to the use of chemical weapons last month, Committee Chairman Robert Menendez said in a statement.
The resolution will be subject to a vote by the panel as soon as tomorrow, he said. Menendez, a New Jersey Democrat, reached the agreement tonight with the panel's top Republican, Senator Bob Corker of Tennessee.
President Barack Obama has called on Congress to approve his request for limited U.S. military strikes to punish the regime of Syrian President Bashar al-Assad over a chemical attack last month outside Damascus in which more than 1,400 people were killed.
The draft resolution doesn't authorize the use of troops in Syria, reflecting lawmakers' concerns that U.S. forces might be drawn into ground combat in Syria. Under the draft, obtained by Bloomberg News, the authorization to use force would end after 60 days. Obama could obtain a 30-day extension if he certifies to Congress that one is necessary.
Democrats and Republicans on the committee pushed Secretary of State John Kerry earlier today to clarify whether U.S. troops could be sent to Syria, requiring him at one point to backtrack on saying that the administration must preserve all options.
'Boots on Ground'
"I don't want to take off the table an option that might or might not be available to a president of the United States to secure our country," Kerry said when asked at a committee hearing if he would accept a prohibition on "boots on the ground" as the administration asks Congress to authorize strikes on Syria for its use of chemical weapons.
Corker was among the lawmakers at the Foreign Relations hearing who ruled out sending troops.
"I don't think there are any of us here who are willing to support the possibility of combat boots on the ground," Corker said.
Kerry then amended his position.
"The bottom line is the president has no intention and will not, and we do not want to put American troops on the ground to fight this, or be involved in the fighting of this civil war," Kerry said later. "Period."
'Prompt' Vote
The testimony by Kerry, Secretary of Defense Chuck Hagel and Joint Chiefs of Staff Chairman Martin Dempsey represents a full-court press by Obama to get lawmakers to back a strike on Syria in response to the Aug. 21 attack by Assad's regime on a suburb of Damascus.
Obama called for a "prompt" vote on allowing a strike, which he has tied to U.S. moral authority and global leadership. The White House is making its case to lawmakers in closed briefings, at today's hearing, and a hearing set for tomorrow before the House Foreign Affairs Committee.
Two Democratic House members who oppose the authority Obama is seeking for a military strike against Syria offered an alternative resolution tonight that would prohibit use of U.S. troops in that country.
Representatives Chris Van Hollen of Maryland and Gerald Connolly of Virginia said in a statement that Obama's request "could open the door to large scale military involvement in Syria." Their resolution would ban "any American forces on the ground in Syria" and limit the authority of Obama to take military action to 60 days.
Before it's here, it's on the Bloomberg Terminal.
LEARN MORE