LeBron James Is Taking His Talents to Starz
by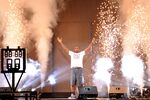 Four-time NBA Most Valuable Player LeBron James can add a new line to his growing résumé: executive producer of a cable-TV series.
On Tuesday, Starz named James as the executive producer of a new half-hour show called Survivor's Remorse. It will depict an NBA star and his friend who—in the words of the official release—"explore the complexity, comedy, and drama of an experience that everyone reads about, but few understand—what truly happens when you make it out." In other words, LeBron's show is kind of like Entourage, only with a Philly-bred athlete in the place of a Queens-born Hollywood star.
James and his business partner, Maverick Carter, were quick to emphasize that the series will be a work of fiction. "It's definitely not an autobiographical series about my life or LeBron's life; it's fictional characters living in a fictional world," Carter told the Associated Press. "LeBron is actually too famous, he would screw the show up if I tried to make a show about him." Regardless, James said that the larger themes about heavy burdens of fame and fortune will ring true. "Being one of the few to make it out and everyone looking at you to be the savior," he said. "Everyone … automatically expects that they made it out and it's very tough for a young, African American 18-year-old kid to now hold the responsibility of a whole city, a whole community. I can relate to that."
The deal sheds light on the unusual opportunities at LeBron's fingertips in the business of sports. The Starz program was developed with the Fenway Sports Group, which signed James in 2011 to negotiate sponsorship opportunities. "We believe we can open doors for LeBron, and LeBron can open doors for us," FSG Chairman Tom Werner told the Wall Street Journal at the time. The partnership also gave James partial ownership of the Liverpool Football Club in the Barclay's Premier League, which has helped raise James's profile abroad. (The relationship between James's camp and FSG executives was effectuated by, of all people, Berkshire Hathaway billionaire Warren Buffett, according to the Boston Globe).
The TV deal appears to be fall into FSG's unique set of expertise. Before expanding into sports, Werner had founded a production company that shepherded popular shows such as The Cosby Show and Roseanne. "Nobody can craft a story like Tom Werner," James said in the Starz release. "He has an incredible vision for television and I'm really excited to partner with him."
James's other business ventures and partnerships range from Beats by Dr. Dre headphones to American Signature Furniture and a part ownership of Cannondale bicycles, according to the Miami Herald—testament to just how far the basketball star has moved into the business world. What will sports fans make of his latest off-court? Even if Survivor's Remorse becomes a hit, there's little reason to think James will find too much sympathy for his real-world plight as a megafamous, multiple-championship-winning impresario.
Before it's here, it's on the Bloomberg Terminal.
LEARN MORE