In 2013 Hurricane Season, a Remarkable Calm Before the Next Storm
by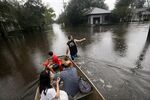 A year after Hurricane Sandy unleashed superlatives, demolishing communities across New Jersey and New York, the current Atlantic cyclone season is turning into a meteorological bust of near-record proportions. There have been no Atlantic hurricanes through Sept. 4 and only a half dozen tropical storms, with conditions over the next week predicted to be about the same as they have been over the past three months: unfavorable to formation.
Hurricane season runs from June 1 to Nov. 30, with most of the stronger storms typically developing in September and October. In 2002, Gustav strengthened into that year's first hurricane on Sept. 11, according to forecasting firm AccuWeather. Before then, the latest first hurricane of a season arrived on Sept. 16—72 years ago, during World War II. This year, the strongest system has been Tropical Storm Andrea, which moved across Florida, Georgia, and the Carolinas from June 5 to June 7 and caused flooding.
Last month, in an update to its views of the current tropical storm season, the National Oceanic and Atmospheric Administration retained its prediction of a 70 percent chance that the season would be above average, with 13 to 19 named storms, six to nine hurricanes, and three to five major systems. The 30-year average has been a dozen named storms per year, six hurricanes, and three major hurricanes. (A storm is named when winds reach a sustained 39 mph.)
Unless you're in the business of professional storm forecasting, the biggest effects from this calm-weather outbreak are modest: a collective sigh of relief from insurers and energy producers in the Gulf of Mexico and further fodder for folks who consider the science of global warming a vast left-wing conspiracy. Or the other way around, since peak hurricane season follows Labor Day.
Fringe elements aside, the main reason for the lack of tropical weather activity has been an abundance of warmer, dry air across the Atlantic waters this summer, which makes the atmosphere more stable. Another issue has been wind shearing, which occurs when winds at various altitudes occur in different speeds and directions, decimating tropical systems in their infancy, Bloomberg News reported. The abundant dry air in the tropics this summer has been causing computer models to consistently "over forecast" cyclone development, says Dan Kottlowski, a senior meteorologist at AccuWeather in State College, Pa. "The model output has done a horrible job on this stuff," he said Sept. 3. "One of the things people try to sidestep is how much dry air is going to be over the tropics. That's one of the things we don't understand and an area where we need to do more research."
Dust from North Africa also plays a role in squelching tropical storm activity, with another large outbreak for the Saharan air layer expected to drift west from Africa over the next week, New York meteorologist John Homenuk wrote Tuesday on his blog. "The dust can cool temperatures of the surface, and even the sea by up to 0.5 to 1 degree cooler than average," he wrote.
And while an uneventful hurricane season will bring cheers in the energy, utility and insurance industries—"they're high-fiving this pattern right now," says Kottlowski—a big whiff by professional meteorology could also be cause for concern. Each year, the federal Energy Information Agency publishes an outlook (PDF) for production outages in the Gulf of Mexico. This year, the agency said its analysis showed a 58 percent probability that the 2013 season would equal last year in terms of shut-in volumes, which totaled 14.3 million barrels of crude oil and 32.1 billion cubic feet of gas.
Those kind of forecasts—and they're important far beyond the energy sector—drive decisions companies need to make in planning for weather shocks and other related risks. "I think it goes to show you," Kottlowski says of this calm before a future storm, "that there are definitely things that are altering the atmosphere that we don't understand."
Before it's here, it's on the Bloomberg Terminal.
LEARN MORE